A Hot air balloon Safari is probably the most amazing way to go game viewing in the African wilderness. It offers an amazing feeling watching animals from aloft and one has to do it to get to know how it feels. Serengeti Hot Air Balloon Safaris standout among the balloon safaris in Africa. Imagine yourself floating over the millions of wildebeests migration herds in the endless plains of the Serengeti National Park. The feeling is just amazing!
The hot air balloon ride is done at the Central areas of Serengeti National Park and participants are collected from the lodges as early as possible because the balloon ride is always carried out at dawn. Normally you will receive a short briefing from the pilot at the take off site then take off.
Please check out our Tanzania Safari Serengeti, which can include hot air balloon in one of the mornings before you continue with normal safari; game drives.
The pilot will control the balloon sometimes flying at Treetop heights allowing you a good chance to watch animals and perfect birds view photography.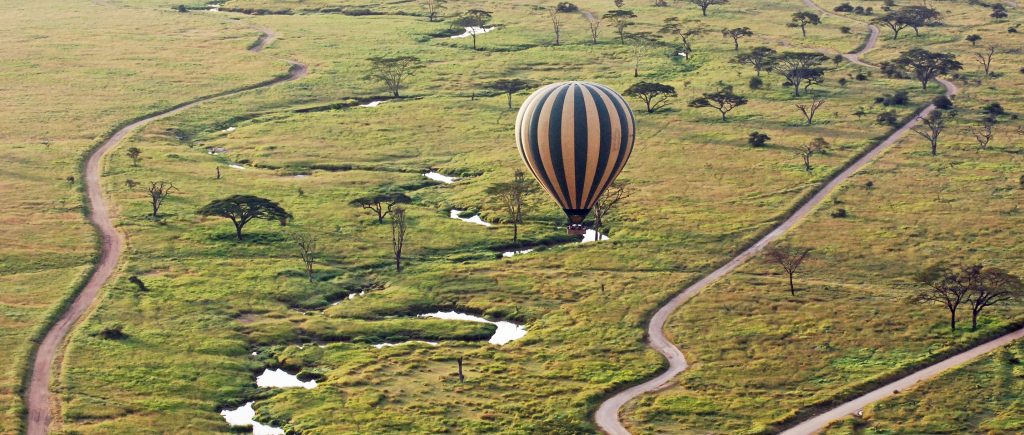 The balloon ride normally takes one hour and at the landing point you will be met by the contingent of Service crew and chefs who will serve you a full English breakfast under an acacia tree. Under the African rising sun the experience is unforgettable.
You will celebrate with a sparkling wine (form of a champagne celebration) before you settle down for a full English breakfast.
Serengeti Hot Air Balloon Safaris
At around 09.30 Am you will be done and ready for the day's activity. The drivers will pick you here and off you drive to the plains for a day of game drives in search of the animals. In case you are flying out it is a short drive to Seronera Airstrip.
The Balloon Safari can be incorporated in any safari that goes to Serengeti National Park but preferably an itinerary that has a full day at Serengeti.
Balloon Safari has also been introduced at Tarangire National Park.
We also arrange hot air balloon safari rides in Masai Mara Game Reserve on our Kenya and Tanzania combo safaris.