Tanzania Camping Safari is a unique way of enjoying the African safari in Tanzania. It is not only affordable but it is a great adventure to take in Africa. Imagine yourself under canvass under the African clear sky with Stars shining above you, or sitting around a camp fire in the middle of nowhere in a public campsite at the center of Serengeti National Park's endless Savannah plains.
We at Tanzania Safari Supremacy make it happen regardless of what leads you into choosing a camping Safari in Tanzania. One may choose an African camping safari because of traveling on budget, while some may choose a camping safari just for the sake of seeking an adventure travel in Africa. We make it happen no matter what drives you into taking a camping safari in Tanzania.
You may be interested in some of our Tanzania safari itineraries that we have compiled for travelers to sample before we create a unique program specifically for you and your travel partners.
Tanzania camping safari experience
Right in the heart of the African wilderness; sitting around a camp fire and sleeping amidst the sounds and roars of night predators comes with a special feeling of adventure. We provide all camping gear (except sleeping bags) during your safari and serve freshly cooked food that is prepared by our experienced safari cooks. Our cook and driver do all the camp set up for you and you only participate in that if you are after an active adventure.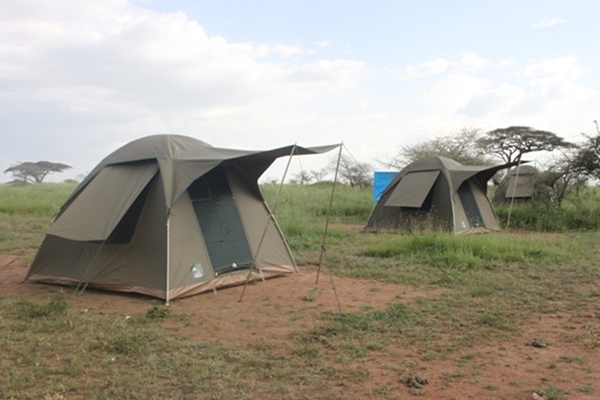 All our lodge safaris can be done by basic camping and so it is a matter of your choice as to which safari program you wish to do on a camping option and we shall advise you on the price and provide you with a detailed safari itinerary.
To prepare a customized Tanzania camping safari we need to know;
When you wish to do a camping safari in Tanzania
How many days you wish to spend on safari
How many persons are travelling with you
Any specific park or reserve that you wish to visit
Please contact our safari consultants also if you want a specially tailored safari for you and your partners.
Tanzania camping safari, Most affordable safaris in Tanzania
Here below are a Sample of some of our camping safaris in Tanzania with prices indicated. We have  a 4 days sample camping safari and a 6 days Sample Camping safari in Tanzania.
4 Days Camping Safari in Tanzania – Ngorongoro Crater and Serengeti National Park
This is a basic camping safari in Northern Tanzania Circuit for 4 days that takes you to the most famous wildlife areas in the country; the Serengeti National Park and the Ngorongoro Crater. These two destinations in the North of Tanzania are both UNESCO declared world heritage sites and great wildlife areas where one can spot the Big five.
6 Days Tanzania Camping Safari – Lake Manyara /Tarangire, Ngorongoro Crater and Serengeti National Park 
The Six days camping safari is  like a full circuit safari in Northern Tanzania that not only take you to the Ngorongoro and Serengeti like the above 4 days package but also includes either Lake Manyara National Park like the published  package but you can also choose to do Tarangire National Park instead.
Apart from the two camping safari packages, we also can tailor make your special Tanzania camping safari to suit your needs and to last the number of days that you would like to spend on safari.
Best time for Tanzania Camping Safaris
You can do a camping safari in Tanzania any time of the year. However, it is important to note that the more rainy season in Tanzania is most significantly during the month of April and May when we experience heavy downpours in most parts of Tanzania and East Africa in general. During these months it is important to take note that it may become flooded in some camping grounds and most notably at the campsites in  Seronera area;Central Serengeti. The rest of the months from January to March and from June to December Camping safaris in Tanzania are just as enjoyable as they are adventurous. Contact one of our safari experts if you want us to customize a special Tanzania Camping safari for you.
None among our clients who have been on a basic camping safari in Tanzania with us has come back dissatisfied. We have always delivered highly satisfying budget camping safaris in Northern Tanzania, more especially. In the South of Tanzania we tend to recommend budget/affordable lodging safaris whereby you can stay in a mid range or budget lodge or permanent tented camp mainly because the animals there are more rowdy. In Ruaha National Park for example or even at Selous Game Reserve where the animals are more rowdy we do not usually recommend doing a basic camping safari.
In Northern Tanzania though where the public campsites are more developed and facilities are at their best we really recommend a camping Tanzania safari for a safari that will bring you close to nature. See you in Tanzania on your next Tanzania Camping Safari!