Tanzania safari tours are superior no doubt about that, no matter what your interests are , or what your budget is or how many times you have been to this Country. The commitment of Tanzania as a nation to wildlife conservation is to the point that more than a quarter of the land mass is set aside for wildlife conservation either as Tanzania National Parks, Conservation Areas like Ngorongoro, Private reserves like Singita, Game Controlled areas like Loliondo and Maswa or the recently formulated community based Wildlife Management Areas like Ikoma and the like. The country is blessed with fabulous natural beauty and it is by no wonder the country boasts of several UNESCO world Heritage sites. All that combined with the charm of the Tanzanian peoples and coupled with the excellent accommodations it is the place to be!
Tanzania safari tours styles
Tanzania safari tours are very variable depending on the visitors interests, because Tanzania allows both photographic as well as Hunting safaris , but we specialize online in the photographic safaris rather than the hunting safaris that are allowed in a select range of game reserves and game controlled areas. We specialize in wildlife safaris which also vary depending on one's preferred comfort and style, and whatever your needs and ideas are; we make with absolute Perfection. With the help of our excellent professional safari guides we offer unforgettable African Safari holidays ranging from honeymoon trips to Tanzania and Zanzibar, small group safaris for all ages the old and the young taken care of, to the perfect family holidays in Tanzania. In addition to these we organize private tours for those with the special interests yearning for that specific kind of a safari that has emphasis on Bird watching, History and cultural encounter, photography, or trekking in African wilderness with or without the help of donkeys, yes donkeys in the Ngorongoro Conservation Area come in handy in our trekking safaris. We also arrange horseback safaris in Tanzania, Canoe and boat safaris.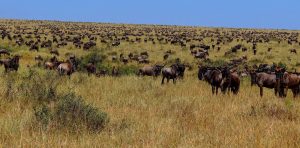 For most of our safari lovers a Tanzania safari tours involves staying in a mixture of permanent or mobile tented camps and the permanent (non-canvass) lodges. These come in different categories and prices form , the cheapest budget, mid-range, upper mid-range, to standard luxury and even the deluxe or super luxury accommodations. Apart from these lodging safaris we also offer the basic camping safaris in Tanzania.
Our Sample Tanzania safari tour packages
At Tanzania Safari Supremacy we do not offer scheduled departure safaris (once in a while) but we are the best in the field of 'tailor-made' tours that we customize according to the needs of the customers but we have a variety of sample itineraries on our websites. Please check some of our most famous safari packages, that can also be customized as well.
For the Basic Safari adventure lovers you can try our 06 days Camping safari in Tanzania , while the family time travelers you can sample out our Two weeks Family safari in Tanzania with Zanzibar Beach extension. Below sample some of our most famous Tanzania safari tours.
Click here to see some of our sample Tanzania Safari Holidays & Packages with prices for 2019.
Can I Join a Group Safari in Tanzania?
If you are looking to keep costs low or travelling alone and you would like to visit Tanzania by joining a group tour, then yes we do that in conjunction with our partner tour operators. The safari tours that you can join however can only be the basic camping safaris that we offer as daily departures and they come in 4 Days group joining safari in Tanzania that includes Tarangire, Serengeti & Ngorongoro or the 5 days group safari in Tanzania that also includes a visit to Lake Manyara National Park in addition.
Best time to visit Tanzania for safari
Just like most countries where you can take safari tours in africa, the best time to visit Tanzania for your safari trip is during the drier months; between January and Mid-March, and again from June to October. These are not only good months because it is drier but also the Wildebeests Migration herds are usually in the Serengeti National Park during these windows. Of course the wildebeests herds are usually present in the Serengeti National Park in April and May but those are the months when we experience the long rains so roads can be muddy but also the days can be dull out there without the usual scorching sun that is usually expected on a safari in Tanzania and Africa in general.
April / may as well as mid October to Mid December during which we get the short rains later on in the year you can still experience the best safari with few or no crowds at all in the parks but also if you want to travel in a cooler month to avoid the hot and humid Africa, then that would be the best time for you to visit Tanzania for your next Tanzania safari tour