Katavi National Park is situated in the western area of Tanzania and a home to the largest herds of buffalo in Africa and on the planet earth at large.
Katavi park boasts a wonderful array of natural habitats, ranging from floodplains with thick reeds and evergreen dense waterways that teem with hippo and crocodile, to woodlands, open savannah grasslands, forests as well as pristine seasonal lakes. All these makes a park a mosaic of habitats!
Visitors to the area can seek out the legendary tamarind tree, which is believed to house the 'spirit' of a great ancient huntsman who was known as 'Katabi' a name where the park's name is derived from. Visitors usually place an offering at the base of the Tamarind tree in memory of this exceptional hunter.
Katavi National Park and Mahale Mountains National Park Proximity
The far west of Tanzania is the home to two of Tanzania's lesser known national parks; The Mahale Mountains National Park and Katavi National Park. The Western Safari circuit in Tanzania is extremely remote, and very tricky to access which as a result makes it pretty costly to visit. This however means that few people make the effort to come here and so it has remained an untouched, unique experience, and absolutely worth visiting for anyone who wishes to visit Africa for a safari tour but longing for the 'Real Africa' experience.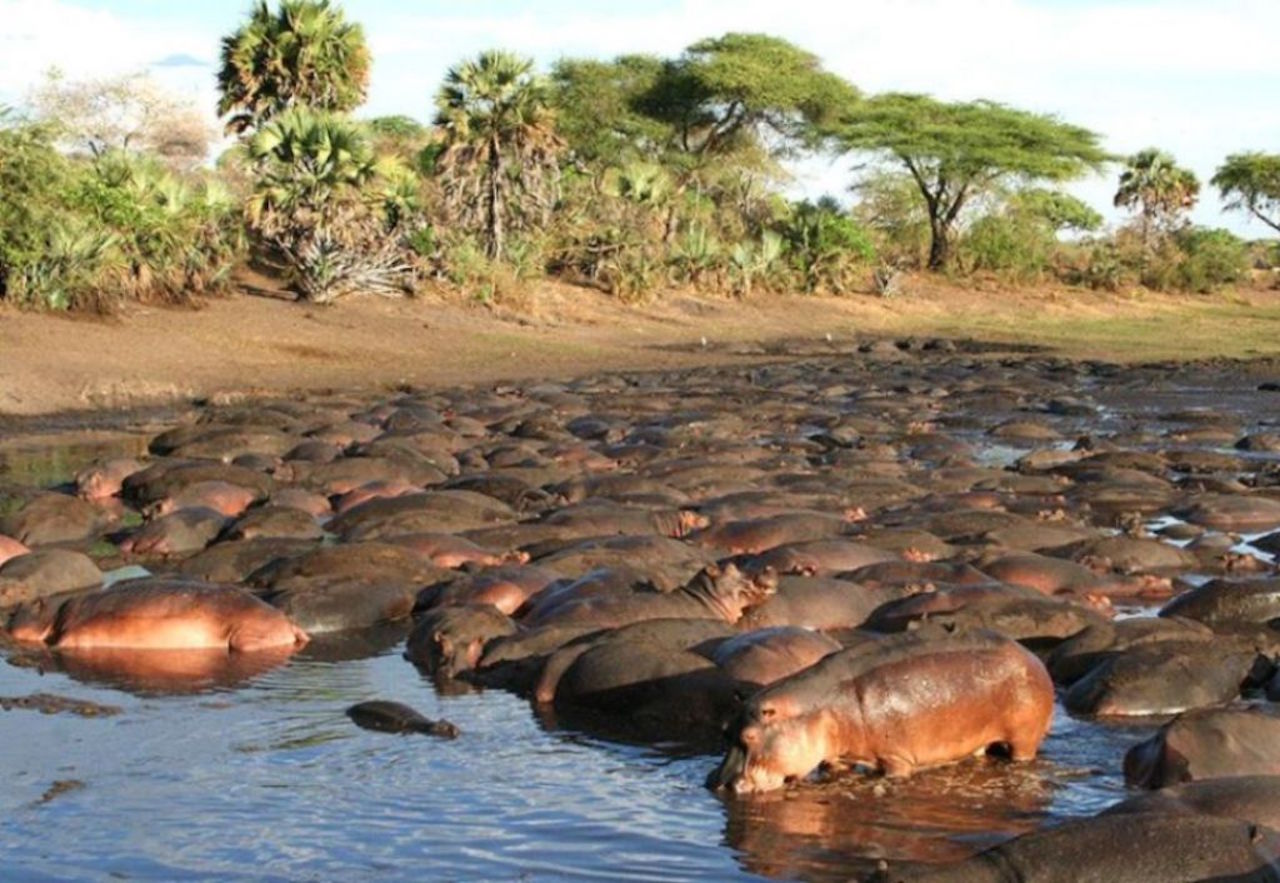 Katavi National Park is one of the best wildlife parks in Africa and many safari operations or safari accommodation operators would obviously love to start camps here. However, the logistics and costs of operation are so challenging, such that there are only a couple of small, permanent safari camps sharing this wonderful vast wilderness covering 4,500km².  Katavi is a home to very large prides of lions and you sometimes encounter more prides of lions than other people doing game drives which means you have the park almost entirely for yourselves.
Katavi is Tanzania's third largest national park and the park never disappoints you. The park has two enormous plains of knee-high golden frass known as the Chada plain and the Katasunga plain which dominate the park.
Katavi National Park in the Western Tanzania Circuit is an unspoiled raw African wilderness area rarely visited with less crowds. Katavi can be combined with Mahale Mountains for Chimpanzee tracking safari in Tanzania.
Katavi National Park's animals and Best time to visit
The best time to visit the Katavi National Park is during the dry season, when the plains fill with wildlife including thousands of zebra, topi and impala. Other common sightings include the giraffes, Defassa waterbuck and Hartebeests (Kongoni). The park is also home to large populations of elephants as well as impressive herds of buffalos (actually believed to be the largest herds of buffaloes in Africa)
Katavi is one great national park for watching the amazing sights of 'lion-buffalo interactions' where prides of lions plan and stage attacks on the ever defiant cape buffaloes. Other common sightings include the Spotted hyena, whilst the elusive leopard appear on the woodland fringes. The African Wild dogs do live here, but tend to stick to the escarpment where they feel safer and are rarely seen on the savannah plains.
The Kapapa and Katuma rivers are the only water for miles during the drier months. As the game congregates down to drink the valuable drop in these rivers, hundreds of hippo concentrate in the tiniest waterhole and enormous Nile crocodiles sit out the heat in river-bank mud-holes.
Birds of Katavi National Park
Katavi hosts large flocks of birds. The open-billed and saddle billed storks, spoonbills, crested cranes and pink-backed pelicans are a common sighting in this remote park. Raptors are also plentiful in Katavi whilst the woodlands of the national park are home to species including the rare ones like African golden orioles, paradise fly-catchers and pennant-winged nightjars.
Vegetation in Katavi National Park
Katavi is situated on the northern aside of the 'Rukwa Rift', which is an extension of the Western Rift Valley. Katavi's dry woodlands therefore are dominated by brachystegia species, which are mostly native to tropical Africa and dotted very densely around this area.
The Plains are made of grass species that feed the grazers as while the flood plains are full of thick reeds.
How to get to Katavi National Park
The isolation of Katavi National Park has really helped the park to remain largely untouched and therefore unvisited. By light aircraft it takes four or five hours to reach Katavi from Dar es Salaam or Arusha town the hub of Tanzania safari tours in the Northern Circuit. However, the result is that whilst the Serengeti National Park in the North gets around 120,000 visitors per year, Katavi has only a few hundred visitors each year! You can therefore imagine that you will have the park almost entirely for yourselves during your visit.
The least expensive way to travel to Katavi (as well as Mahale Mountains National Park, which is relatively nearby) is by using twice-weekly scheduled 'shared charter flights' which link these parks with Arusha, in northern Tanzania. These flights operate on Mondays and Thursdays, and their relatively high cost goes along way in helping to make these parks; two of Tanzania's most expensive destinations! The visit to the parks is however by all means worth all the trouble and cost.
One flight company also operates flights routing Dar es Salaam – Selous Game Reserve – Ruaha National Park to Katavi/Mahale, and back. These  however also run on Mondays and Thursdays and they are induced flights with a minimum of at least 2 passengers. Sadly, the costs for these are similar to the costs of chartering; certainly no lower than the schedule flights from Arusha town. Please get in touch with our able safari experts on how to schedule a Tanzanian safari that incorporates the magnificent unspoiled Katavi National Park.