Chemka Hot Springs in Moshi, Tanzania also known by some as Maji Moto, known locally as Kikuletwa Hotsprings, is paradisiac oasis amidst the Tanzanian savannah. The crystal clear springs offers captivating, Bounty-styled views, and dense vegetation around making it a real oasis in the middle of the African plains.
The Chemka Hot Springs is located in an area locally known as Rundugai a merely 2-hour drive from Moshi (Tanzania) which is the main climbing hub for Mt Kilimanjaro climbing and approximately the same distance from Arusha the safari hub of Northern Tanzania and Africa.
A visit to the Chemka Hot Springs is a great way to start or finish your Kilimanjaro climbing tour or Tanzania wildlife safari tour if you want to visit Tanzania for a wildlife viewing adventure.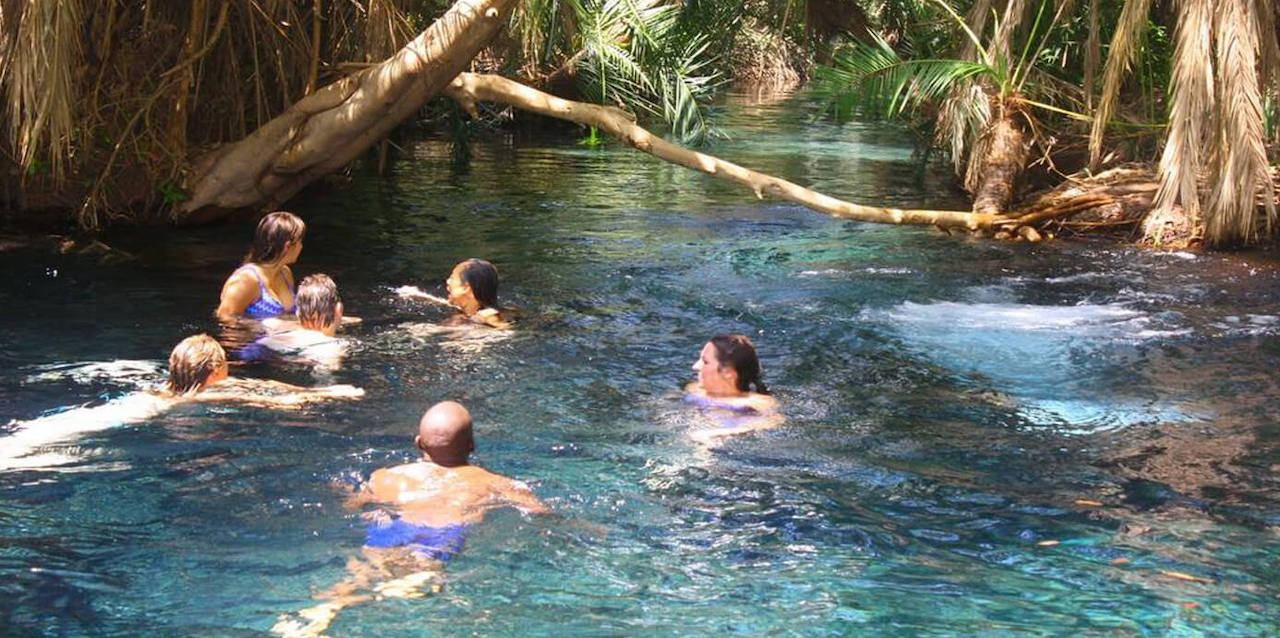 Chemka oasis is a unique phenomenon – it is the only place in Tanzania (and most likely in the whole East Africa), where the groundwater actively interacted with geothermal sources, as a result 'magically' forming a number of small lakes with warm, never-stagnating water, which purity is not inferior to the best Dominican or Maldivian resorts. A 'natural Jacuzzi' of its own kind!
If you are visiting Tanzania for your next Tanzanian safari tour or Kilimanjaro climbing tour, don't miss a chance to experience a slice of local life with a visit to the idyllic oasis that is Kikuleta Hot springs. The gorgeous geothermal spring is a popular playground with locals and international visitors alike.
Chemka Hot Springs (Maji Moto) Tour – Itinerary
ARUSHA/MOSHI – MAJI MOTO
Pick up from your Arusha or Moshi hotel /or residence and make a two-hour drive to Lundugai near Boma Ng'ombe arriving at the Chemka / Maji Moto Hot springs. This scenic drive takes you off the tourist trail and offers a glimpse into local life: bustling markets, local farms, and the like.
On arrival at this oasis of its kind you will spend a few hours soaking in the pleasantly warm waters, as well as swinging on the rope swing (if you care for some little adrenaline activity), relaxing in the sun-dappled shade of the trees, but also feasting on local favorites such as Chips-mayai (a French fry omelette made out of eggs and potato chips) and Nyama-choma which is a local barbeque.  We can also provide packed lunch from town; Arusha or Moshi town depending on which town you are starting from.
After you have had enough we will take you back to Arusha or Moshi town where you will be dropped at your lodge ready for your next destination. If you are departing on this day you can be dropped at Kilimanjaro International Airport directly from Maji Chemka for your flight back home at no extra cost.
Feel free to contact our experts to know more about Kikuletwa (Chemka) Hot Springs or Chemka Hot Springs adventure!