Like the name suggests Lake Natron is the area surrounding a soda lake called Lake Natron which was named after the Natron deposits found on this lake. Lake Natron is however not famous for its Natron deposits but as a home of the beautiful flamingos which come to breed here every year before they spread out their wings and fly to many other lakes found in the Great Rift Valley within the East African countries of Kenya and Tanzania especially. The Blue algae which is food for the flamingos thrive in this soda lake giving the lake a stunningly beautiful natural color. The abundance of the blue algae and thus food for the greater and lesser flamingos makes Lake Natron the only breeding ground for millions of the colorful flamingos that you can see in East Africa.
See our 10 Days Safari in Tanzania including a visit to Lake Natron with views to the Oldoinyo Lengai
Lake Natron Location in Tanzania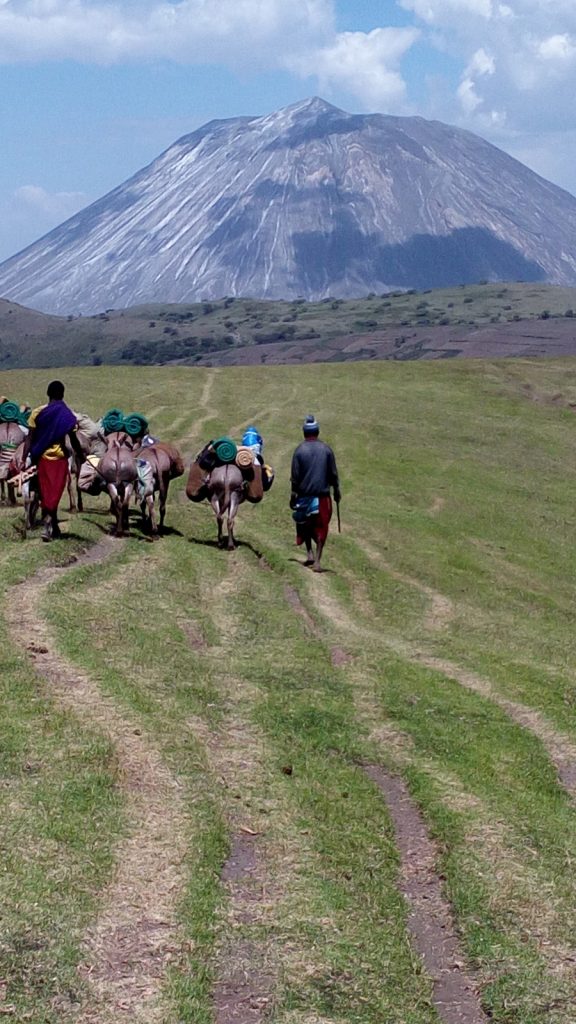 The Lake Natron is described by many as one of the original landscapes in East Africa that survives to date. Due to the nature of the infrastructure the region is not easily accessible and especially during the rainy season a fact that has helped in ensuring that the area is naturally protected unlike other places of interest like in the national parks. Lake Natron is geographically located on the border between Tanzania and Kenya in the middle of a volcanic moonscape in the Rift Valley.
This area is a predominantly a Maasai inhabited area making it a great destination if you want to visit the authentic Masai villages that are devoid of any western infiltration or touristic stage managing.
The Lake Natron area offers more attractions than these though including an interesting river walk along a volcanic canyon leading to two stunning waterfalls, a walk across the soda lake with flamingos or even a trek up the only active volcano in Northern Tanzania; the Oldoinyo Lengai which is a Masai name meaning 'a mountain of God'. The Volcanic mountain is said to have erupted about 15 times in the last century and to date sends tremors as far as Arusha and beyond due to underground volcanic (magma) movements.
Lake Natron Safari Tanzania, Climbing Oldoinyo Lengai,
It is a challenging hike due to the steepness of the mountain and the risk that is involved of course, but this 'Mountain of God' offers a rare opportunity to view the molten lava but also the great views of surrounding landscape from above is absolutely stunning. The hike up Oldoinyo Lengai is usually done at night after midnight until morning when you summit and then hike down.
If you wish to take a Tanzania safari with adventure in mind and want us to include Lake Natron area or attempt the hike up Oldoinyo Lengai, don't hesitate to ask our experts to include that in one of our many safari tour itineraries.