Mahale Mountains National Park is situated in the western part of Tanzania on the bank of Lake Tanganyika and it is the most ideal place to see chimpanzees in Africa. The mountains are very popular for being among the most extraordinary and remarkable safari places in the whole of Africa.
It was declared a national park during 1985 and it occupies more than 1,500 km2 of high yielding land on the eastern banks of Lake Tanganyika. The Tanganyika is the second deepest as well as the longest freshwater lake in the whole world and it is located in the secluded part of western Tanzania.
The Mahale Mountains cut through the national park which is characterized with hills as well as rich verdant vegetation. The park is majorly covered by miombo woodland in addition to montane forest, Kasoge forest, montane grassland plus riverine forest in other places. All this diverse vegetation provides a home to a variety of wildlife that live in the park.
It is possible to combine both our Southern Tanzania safari tours and our Tanzania safari holidays in Northern Tanzania, using the shared charter flights that run on Monday and Thursdays.
Chimpanzees in Mahale Mountains National Park
Mahale is very popular for its population of chimpanzees which are over one thousand in number. Since the 1960, research on these chimpanzees has been ongoing and today a number these chimps have been habituated to allow human visitors during the guided Tanzania Chimpanzee trek tours.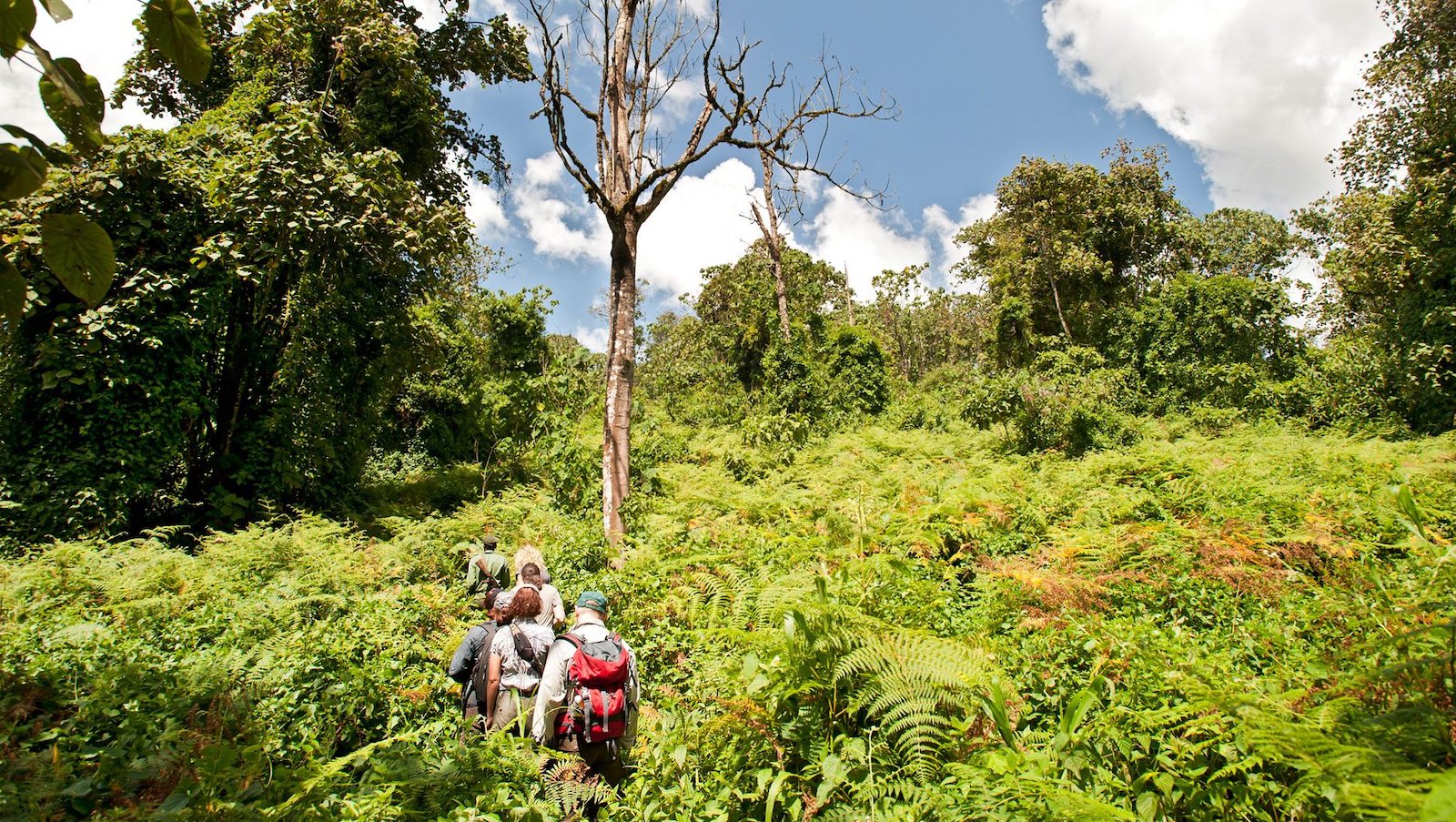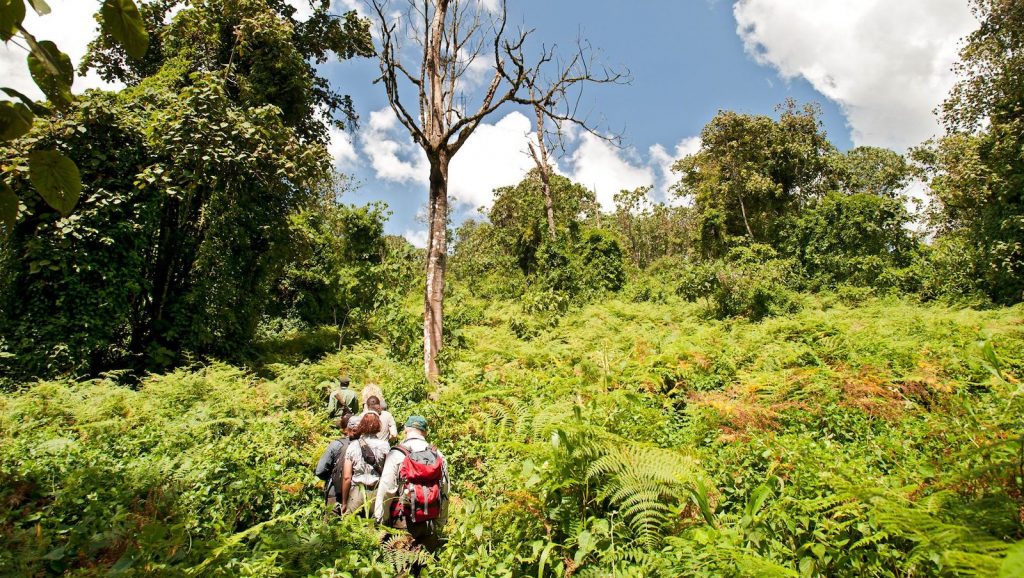 You can take walking safaris to view these intriguing primates and watch them as they go about their daily life which is a truly exceptional experience. All the time spent with the chimpanzees is restricted in order to conserve the wildlife as well as the environment.
Getting the chance to observe the chimpanzees in their natural-sanctuary is an exceptional experience and it is truly memorable. Mahale Mountains National Park provides chimpanzee trekking with a few guidelines in order to ensure protection of the chimpanzees as well as the natural habitat. You will be able to see the chimpanzees in your two to three day such as the 4 Day chimpanzee tour Mahale. It is not possible for you to visit Mahale Mountains National Park and fail to see the chimpanzees.
Best time for Chimpanzee Trekking in Mahale
The most ideal time to see the chimpanzees is during August to October when they slope down the mountains looking for food. You are only allowed to spend one hour around the chimps. They are the highlight of the park however there are a variety of other primates you can observe. You can also enjoy birding here as well as seeing crocodiles and hippos that are nearby.
Other Mahale mountains National Park wildlife
There are a variety of other wildlife that reside within the vegetation in Mahale Mountains National Park. Some of these animals are the mongoose, porcupine, monkey plus the squirrels. In the vast open savannahs, you can come across the more popular wildlife in Africa including a variety of antelopes, lions, zebras, giraffes and many others. When it comes to the lake, you will see a diversity of fish in addition to a couple of species that can only be found in Lake Tanganyika which makes it ideal for snorkeling.
Our experienced travel experts for Tanzania will be able to advise you on the best way to combine chimpanzee trekking in Western Tanzania with our traditional wildlife Tanzania safari tours or even combining Tanzania safari and Zanzibar beach.
Best time to visit Mahale Mountains National Park
The park can be toured at any time during the year. The most ideal time to tour the park is during the long dry period which is during the months of July until October. That is when the chimpanzees usually converge in large groups and move nearer to the banks of the lake. You can also see the chimpanzees in the wet season however it will need some more hiking. In the rainy season, the 'majestic' thunderstorms above the Lake Tanganyika excite tourists. A few of the campsites are not open in the wet season.
Activities, things to do in Mahale Mountains National Park
Chimpanzee trekking: the highlight of Mahale is chimpanzee trekking as the park offers a verdant and very magnificent natural habitat located in a secluded place.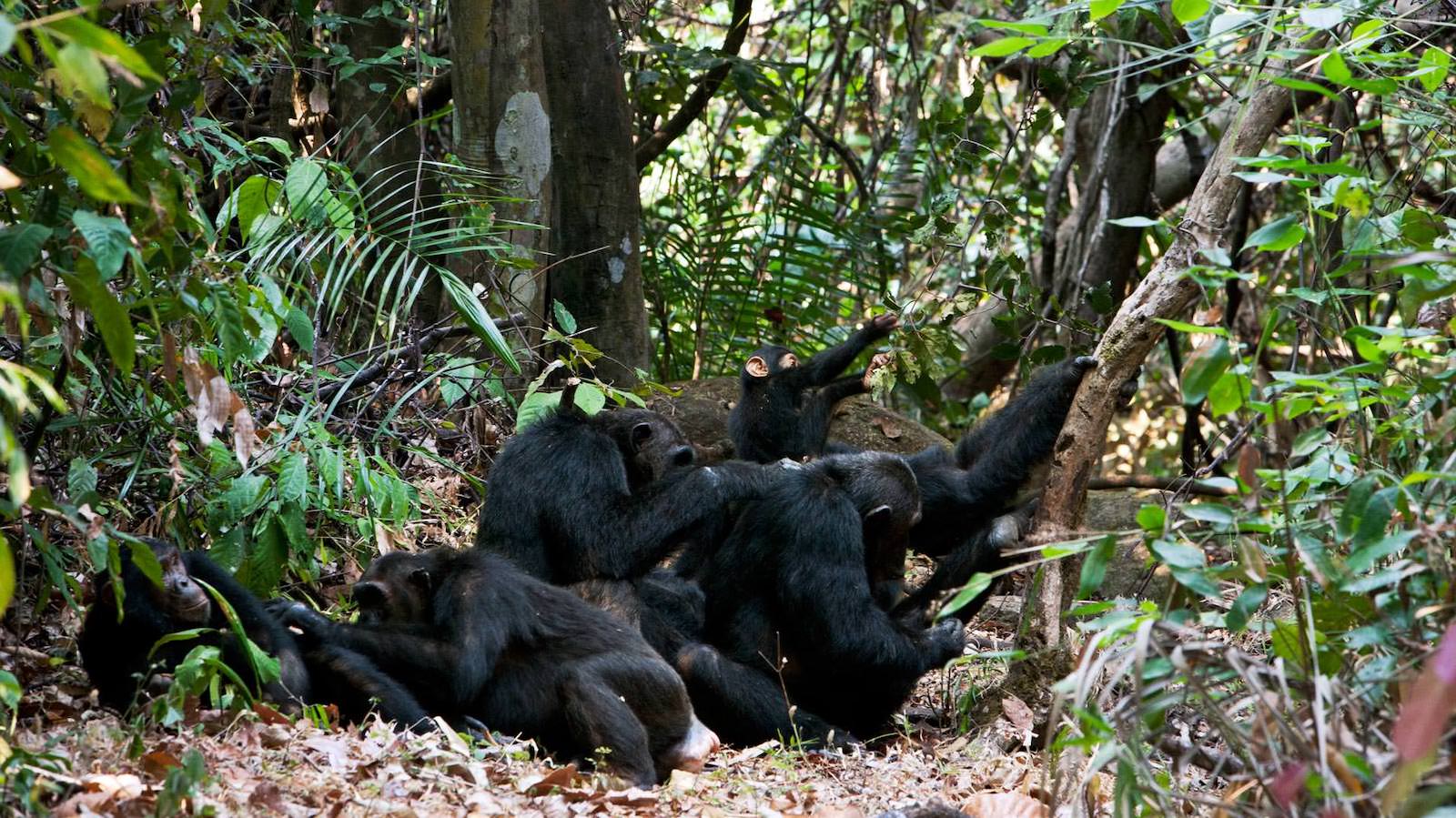 Beach walks: taking a trip to Mahale Mountains and going for a walk on the shores of Lake Tanganyika is breathtaking. This Park also has an amazing beach that has clear water. It is among the most fascinating places to visit on the continent.
Hiking along the small trails to explore shrouded waterfalls
Fishing on the lake
Kayaking
Snorkeling
Bird watching: taking a walk within the forest to observe the birdlife as well as other small animals.
Accommodation in Mahale Mountains National Park
There are various accommodations you can find in and around Mahale Mountains National park, however on top of the list especially for those who love some luxury is the Nomad's Greystoke Mahale. It is internationally popular for its magnificence. You can also stay at Nkungwe Lodge; this is a budget friendly and although it is not as luxurious as Greystoke, it has well-established itself and become popular over the past few years. It is a good option if you are traveling on a low budget range.
How to get to Mahale Mountains National Park
Mahale Mountains National Park is secluded therefore it has a few people. The most convenient and fast way to access the park is through air transport.
By air
In the period starting from June until October, there are fixed scheduled flights that travel from Arusha to Dar es Salaam and then proceed to Mahale Airstrip. Outside this period, flights are not as fixed. You can also charter flights.
By road
The roads are bumpy and can be difficult to navigate particularly in the wet season. You can drive from Arusha to Kigoma after which you will have to use either a plane or a boat. It will take about two to three days to travel by car.
By boat
When you reach Kigoma, you will find speed boats which will take about four to six hours to reach Mahale. There are also timber boats however the trip will last for up to 15 hours. The MV Liemba which is a huge steamship, moves from Kigoma to Mahale and the journey will last 10 hours.
Most chimpanzee trekking tours combine safari in Katavi National Park, Gombe National Park (with longer trekking tours) and Mahale Mountains National Park.