Wildebeests Migration Location in 2014
Many travel operators do not guarantee  Seeing the wildebeests migration but we are here to defy that by saying you can see the wildebeests Migration with a sure Guarantee!!. This is because we know where the wildebeests Migration herds are all the time. We constantly have safari guides on safari and they update us on a daily basis on their current location.
Timing the River crossing is the most tricky part but if you can book a safari on a short notice and get the fights to Kilimanjaro or Nairobi and ready to do a Camping safari, then you are almost sure of seeing the crossing. The animals first congregate at the river banks before they start crossing and they can spend even up to a week around the river banks. As if to wait for you. Taking a combined Kenya and Tanzania Safari with a minimum of 5 nights between the two places almost assures you see the famous wildebeests migration river crossing.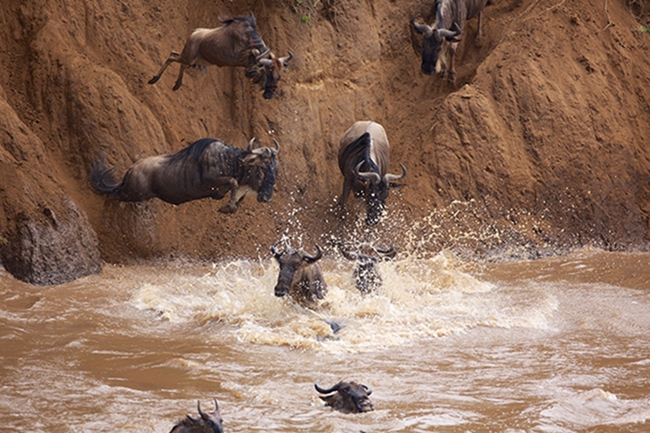 The herds also do not cross all in one go in their million plus, but rather crosses the river group after group and some even do not cross over to Masai Mara after all and they choose to stay especially if the grasses and water points are not as dry.
A lodge safari in Kenya and Tanzania with the sole aim of seeing The Great Migration of Wildebeests is a tricky affair but if you can spare at least some 5 nights to 6 nights to be spent between Masai Mara  and the Serengeti National Park.  That should be done between late July and early August according to the most recent patterns. Old maps and patterns suggest otherwise but we can categorically state this with the current wildebeests migration in mind. Last year ( 2013) some wildebeests Migration had already crossed by late July. Some crossed over to Masai Mara in Early August.
You can combine Kenya and Tanzania in one safari for a great wildebeests migration safari that almost guarantees the wildebeests spotting in either Masai Mara or Tanzania. We customize the tours in order to suit individual needs and budget.
When is the best time to see the River crossing of wildebeests Migration in 2014 one may ask. Of course you can not predict right now but if the rains patterns goes on as they are predicted then by Early August we expect that spectacle of year to take place at the usual venues. Mara River between Masai Mara National Reserve Kenya and Serengeti National Park in Tanzania.
If you have been yearning to see the wildebeests migration  this year, you can keep in touch with our travel experts and make that dream come true this year 2014.
Wildebeests Migration Location Updates in Dec 2013
December 2013 – February 2014
Herds were in Ndutu and Masek Area and did what they are expected to do each and every year to keep the generations going; breeding and foaling. The predators feasted and so did the scavengers which made the best out of the placentas and stranded calves.
Wildebeests Migration Location in March 2014 
The Wildebeests Migration herds are already out of Ndutu ( most of them and they are at the border to Serengeti as they make way into the Serengeti. Seemingly they are heading towards the Moru Kopje areas. The herds at Moru seem to be heading to Central Serengeti so it is very likely that the herds will be doing the Mara River crossing as early as mid – late July just like last year.
Sample our Kenya Tanzania safari in this page to get a glimpse of our our wildebeests migration safari packages work.
We will keep on updating you. Keep in touch!!