In a nutshell, the best time to visit Tanzania for wildlife safari is starting from July to the month of October when the Tanzania and East Africa at large is at its driest. That period also coincides with the Wildebeests migration and more especial the river crossings when more than a million herds of wildebeests accompanied by zebras and gazelles cross the Mara River in a bid to migrate from Serengeti in Tanzania to Masai mara in Kenya. As that is not enough, all the other parks offer great visibility and thus better wildlife sightings at that time of the year because grasses and bush are less dense and one can spot animals from far due to the drier grass during this time.
The wildebeests Migration also referred to us the 'Great Migration' is the epitome of safari in Tanzania; probably the greatest attraction for safari lovers. Many people flock Tanzania specifically in the Mara River area in Northern Serengeti during the months or July to September to try their luck in witnessing the greatest wildlife spectacle on earth.  Many other animals follow the wildlife making the area abuzz with wildlife action as predators engage their prey in life and death battles and races.
What you wish to do, where you to want to visit and what you want to see in Tanzania also determines what the best time is to visit Tanzania.
Best time to travel to Tanzania; Safari Seasons
Tanzania and East African rainfall pattern dictate the availability of grass and water in the parks but also determine the location of animals in the parks. Ultimately the rains therefore also determine the safari travel seasons in Tanzania.  Generally, Tanzania is an all-year round destination but April & May we receive more rains in most areas of the country, the parks included. It is therefore usually the lowest season for Tanzania safari.
The shoulder season also known as the green season in Tanzania occurs between November and March. November to Mid-December is specifically quieter with less crowds in the parks. That is a great season to do safari in Tanzania if you wish to travel to Tanzania when it is less crowded. This time too is good for birdwatching as the region sees an arrival of many migratory birds that stay around until the following year.
This period also sees the wildebeest migration herds return to Ndutu where it all starts all over again with the birth of thousands of new born calves, in what is known as the Wildebeest Migration Calving Season.
Find here below a brief month to month insights on what to expect when you travel to Tanzania throughout the year;
Best time to visit Tanzania insights by Month
Travelling to Tanzania in January
January is ordinarily a sunny month with the temperature rising higher but there is always a chance of rains, the last rains for the short rain season that's tarts from Mid to end October. January is a good time to visit Tanzania for safari. In the Serengeti the wildebeest herds are moving fast into the Ndutu Plains south of Serengeti and over in the Ngorongoro Conservation Area where most of the birth of wildebeests happens between December and March. Most calves are born in February.
Ndutu Plains can easily be combined with Serengeti, and Ngorongoro Crater but also other parks in the Northern Tanzania Safari circuit.
Travelling to Tanzania in February
February like January is a sunny month in Tanzania and safari as well as Zanzibar beach vacation is great during this time. The Wildebeests Migration herds are still within the Ndutu Plains in the NCAA as well as Southern Plains of Serengeti National Park. Most wildebeests give birth during this month with estimated 8000 plus new born calves every day.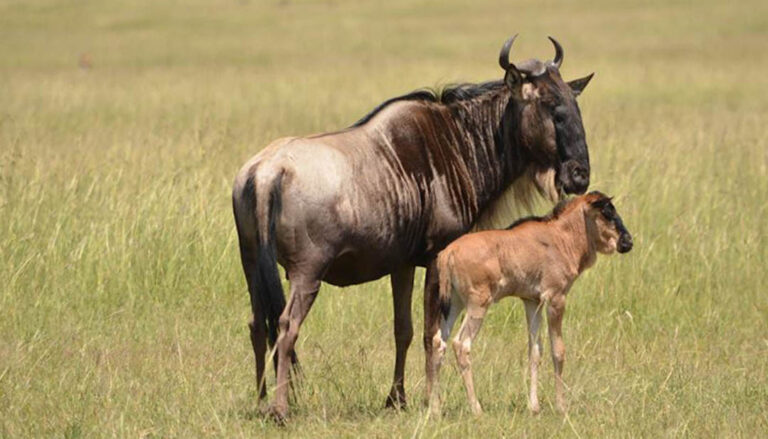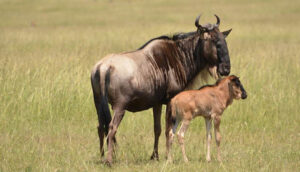 February's weather in Tanzania is hot and humid. See some of our Wildebeests Migration Calving safari tours like our 8 days package.
Visiting Tanzania in March
The month of March is generally hot and humid as well just like February, but from Mid-march onwards you expect rains to start any time. For many years in the past, it was almost a sure bet that the rains would start from 20th March to around 25th March but with the climate changes that has been going on rains might start even well into April.
Wildebeests' migration herds usually are on the move in this month, as they migrate with their newly born calves from Ndutu Plains towards central Serengeti. As the rains nears, the parks get less crowds of visitors and it is another great time to visit Tanzania for safari if you want to visit when it is less crowded. Some of the lodges and tented camps have lower room prices during this month.
Travelling during April and May
April & May is usually the long rains season in Tanzania and East Africa at large. This period sees most of the yearly rainfall fall during these two months. Safari tours can still be done during this month especially if you want to take advantage of the lowest lodge rates.
Most travel experts advise against travelling at this period due to roads being muddy, visibility low, and grasses being long.
Visiting Tanzania in June
June is the shoulder season when it comes to Tanzania safari, although with some lodges and tented lodges, rates in June are already charged as peak safari season. We like June for safari because the weather is cool, not too hot like the dire season, but also there are less crowds in the parks during this month.
June is a wonderful time to visit if you are interested in birding safaris in Tanzania. Most migratory birds arrive at in June after the rains and vegetation is green. Landscape is at its best in June so if you like those endless vistas and panorama, this is your time!. The wildebeests migration herds can be seen in large numbers in the Western Corridor but they are mainly in fast movement from Western Corridor (Grumeti, Mbalageti Rivers) through Ikoma Area (outside the park) towards North of Serengeti National Park.
This is the green season, bringing lush grasses and bush that can make spotting game more difficult. However, this is still a wonderful time to travel — particularly for bird watchers as parks are full of migratory birds; especially in the south. Migration should be in the Grumeti area of the Serengeti heading north.
Traveling for Tanzania safari in July
July is the month when the peak Tanzania safari season starts in earnest. This is the start of the peak season. This is the time when the Migration herds arrive into the Northern Serengeti  areas of Kogatende, Bologonja and areas around the banks of Mara River. At this time the savannah plains are drier and visibility is much better.
From mid-July the wildebeests migration herds accompanied by Zebras and gazelles start to brave the crocodile infested waters of Mara River as they migrate to the Masai Mara in Kenya in search of greener grass and water.
Our 8 Days Tanzania Safari and Zanzibar packages are perfect in the month of February.
Visiting Tanzania in August
August is Peak safari season proper in Tanzania! Most of safari lovers travel to Tanzania in August because it is one of the driest months and visibility is at its best. You can spot animals from a long distance with the grass's drier.
The Great Migration of Wildebeests is at its peak with large groups of wildebeest crossing the Mara River into Masai Mara Game Reserve in Kenya.
Visiting Tanzania in September
The month of September is still the Peak Season in Tanzania. The last river crossings can be sighted at this time at Mara River. The larger Kogatende area is a buzz with wildlife activity. The months or July to September sees many tourists visit the Northern Tanzania parks, and if you want to visit less crowded parks then Ruaha, Selous, Katavi the less travelled pars in Southern and Western Tanzania safari circuits are a good option.
During these months herds of elephants have their own small migration with many herds concentrating in the Tarangire National Park having crossed from the Lake Manyara area.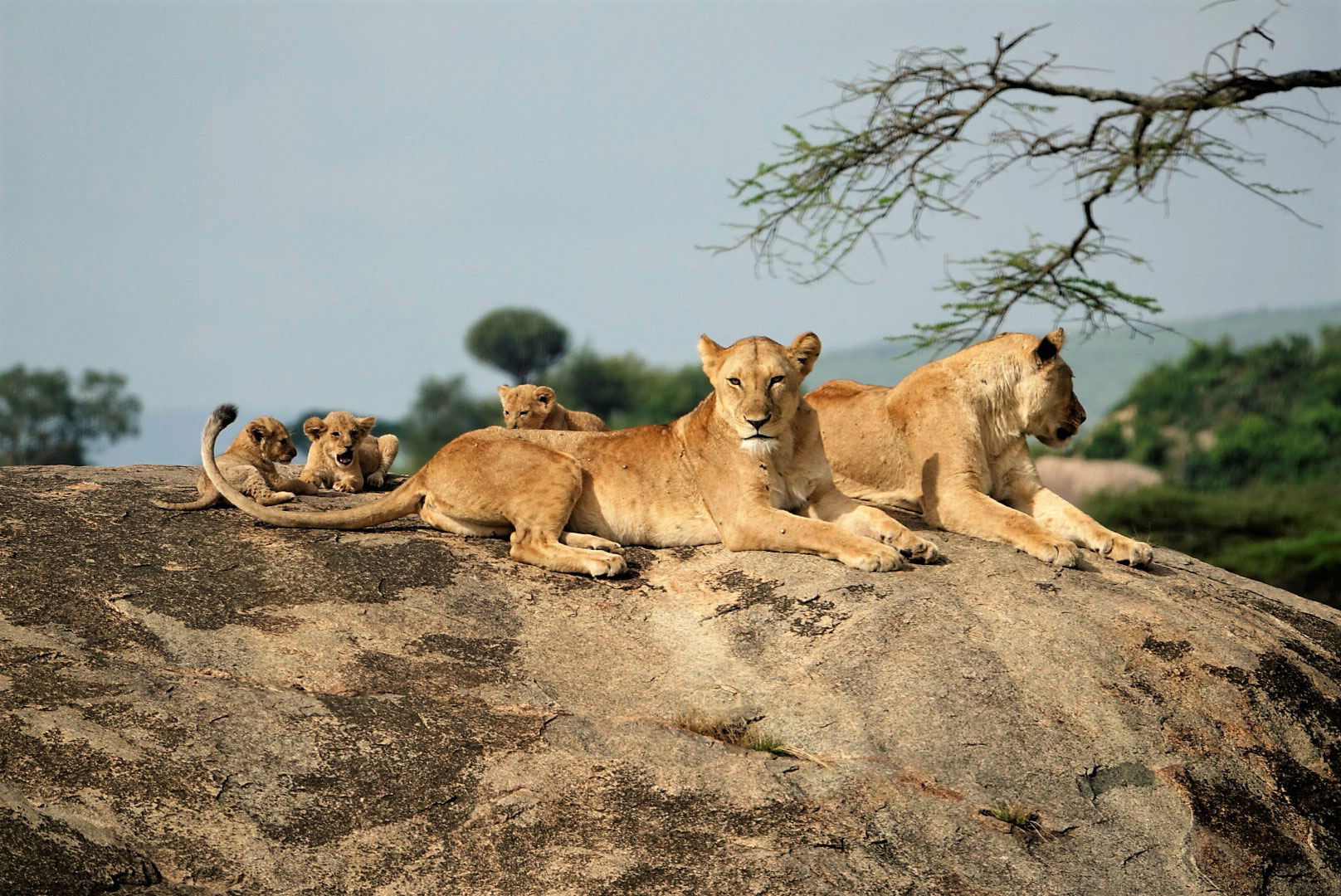 Visiting Tanzania for safari in October
The month of October sees the start of short rains in Tanzania and Kenya and at this time the wildebeests' herds are in Masai mara in big crowds. By mid-October some smaller groups have started crossing back to Serengeti. Large crowds can be seen in the Lobo and Bologonja area but as far as the Loliondo Game controlled area outside the Serengeti.
Large herds of elephants can be seen in the  Tarangire National Park with many jumbos having migrated from Lake Manyara. There are less crowds in the parks both in Northern Tanzania and Southern Tanzania safari circuit. Zanzibar beach vacation is still ok at this time.
Visiting Tanzania in November
In November the short rains have started in earnest and there are much less crowds in the park.
At this time the wildebeest herds and indeed many other animals both prey and predators that follow the migration, have moved into Central Serengeti. The animals are still moving south towards Ndutu Plains where they expected to stay from December to March for the Wildebeest calving season.
Many safari group happen at this time because of a conducive weather but also lower shoulder and low season rates in most lodges, tented camps and beach hotels and resorts in Zanzibar.
Travelling to Tanzania in December
December another good time to visit Tanzania and many families take holidays in Tanzania for festivities but also to escape the freezing winter in Europe and Americas. December experiences rain falling in Tanzania but mostly at night. Days are generally sunny although there is still a chance of rains during the day.
Beach Properties; hotels, resorts, villas are always fully booked at Zanzibar and it is so important to book your safari in Tanzania and beach as early as possible to avoid last minute hassle and disappointment. Do not hesitate to contact our able travel experts for free advice and insights on what is the best time to Travel to Tanzania for safari or beach vacations!