Lake Manyara Serena Safari Lodge is a 5 Star safari Lodge (East African standards).
Perched on the Cliffs of the Great Rift Valley the lodge offers fantastic views over the Lake Manyara' s gleaming alkaline waters. The lodge is ideal for all travelers visiting the Lake Manyara National Park and also as a night stop for those who would like to visit The Not so far attractions like Ngorongoro Crater, Lake Eyasi Cultural visits and also Lake Natron. Staying at this lodge will make the next days visit to these attractions easier.
In a purely African themed architecture the lodge borrows the design from the Maasai Bomas.
The lodge has a total of 67 rooms of which 41 rooms are twin rooms, 12 are triple rooms and 1 is an executive suite.
Among the services that are available includes; telephone, internet, gift shop, and a nice swimming pool with breath-taking views over the Lake Manyara beneath.
For more information about staying at Lake Manyara Serena Lodge or including it in your safari package please contact us by email.
Lake Manyara Serena Lodge is located on the picturesque Great Rift Valley Escarpment, overlooking the Lake Manyara.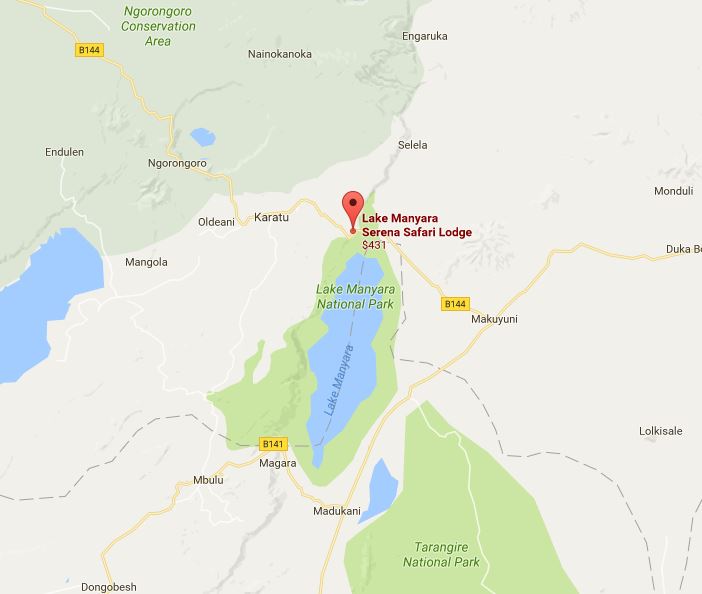 The Lake Manyara Serena Lodge consists of a total of 67 rooms. The lodge has a dining area and a bar.
The rooms at the lodge are of the below room configuration:
1 Suite
30 Twin rooms
21 Double rooms
15 Triple rooms
10 Pairs of rooms as interconnecting rooms which are great for families
2 rooms are special rooms for the physically challenged
The lodge amenities at Lake Manyara Serena Safari Lodge includes
Mosquito nets at the rooms
Ceiling Fans
Free Wi-Fi
Telephone Services
Satellite TV in every room
Some of the guest services at Lake Manyara Serena Safari Lodge includes the below:
Laundry services (at extra cost
Complimentary tea and coffee throughout the day
Room Service
24 Hour electricity
24 hour doctor on site (medical services)
Baby sitter services on request
Safe deposits