Ngorongoro Farm House is one of the best upper mid range farm lodges around the Karatu area to serve for accommodation for people touring the Ngorongoro Crater and the the nearby Lake Manyara National Park. Located in just out side the Ngorongoro Conservation Area; Ngorongoro Farm House is a located at the Ngorongoro Highlands, a few minutes drive from the Ngorongoro Crater main entrance gate.
The farm has ten luxury bungalows which are built and decorated in an original colonial style. The bungalows are spacious with en suite bath rooms and balconies that overlook the vast farm.
The 500 acres farm is fully operational and it features a 6 acre organic vegetable garden which supplies the lodge and many other lodges that are owned and operated by Tanganyika Wilderness Camps.
The farm consists also of a 15 acre coffee plantation which produces fresh coffee that is roasted at the site and used also at the lodge and it's sister properties.
The farm also has home grown rabbit, pigs; ducks, free range chickens, lamb and milk cows.
Other facilities include; two dining areas, a swimming pool, and a gift shop. The lodge is a perfect medium range alternative for the large lodges at The Crater Rim.
For more about including Ngorongoro Farm House in your safari please do not hesitate to contact us any time.
Ngorongoro Farm House is located in Karatu area in the Ngorongoro Highlands just close to the Loduare Gate; the main gate to the Ngorongoro Conservation Area.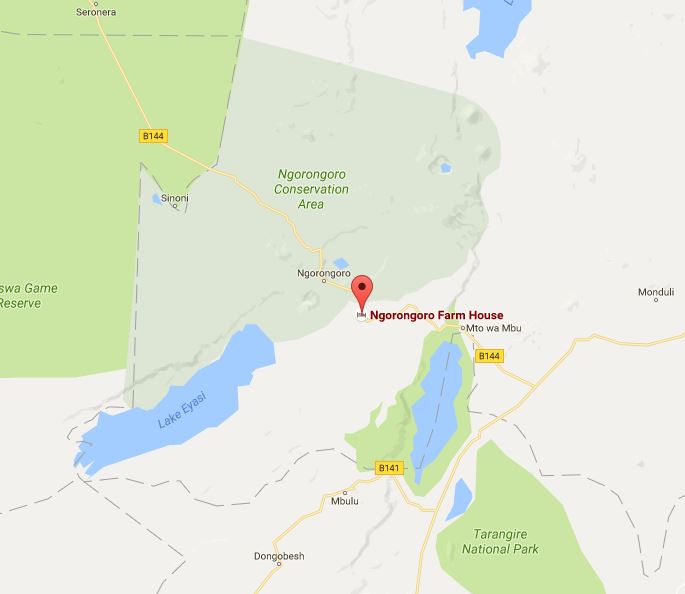 The Ngorongoro Farm House at Karatu offers a total of 51 rooms which are all en suite (self contained) and among these:
42 Standard rooms
3 suite rooms
6 Family rooms (2 of which have interconnecting doors)
17 rooms are Double beds (one big bed)
7 rooms are Triple rooms (with 3 beds)
27 rooms are Twin beds (with 2 beds)
The lodge is a very children-friendly lodge as illustrated.
The lodge has a swimming pool and a Massage/wellness center on site.
The lodge offers internet and telephone services and the lodge accepts Credit card services (Visa & Master card)
Activities offered at the lodge trekking in the Ngorongoro Conservation Area with guided walks in the best areas of the Conservation Area.
The Lodge also offers Farm walks in the lodge's farm to show you how the farm is run, a coffee tour, the vegetable garden (organic garden) or go for a vigorous trek around the farm's road guided by a resident Masai guide. The Masai guide will introduce you to the local culture and customs but also uses of plants and herbs.