What you need to know before taking your kids on Safari in Tanzania and Africa, Tanzania Safari for Kids
It has been thought by many that planning an African safari for kids is a bad idea however this is not true. Research on child development shows that it is important to take your children for different travel adventures and this is beneficial to their growth. Safari in Tanzania and across the African continent provide a unique experience for children to get very close to the animals they love in their habitats which they have only seen on television or in books.
An African safari to destinations like Tanzania (which has been ranked as one of the best wildlife destinations for family safaris) can be a great and amazing trip with children if you prepare and plan for it properly. In this article we give you discover how to have a great family vacation with children.
Choose your destination Wisely
Most safari destinations are child-friendly however there are some places that are more considerate for families with children. These places provide you with important utilities such as indoor plumbing, Wi-Fi and access to nearby stores to provide comfort for you and your kids.
Countries like Tanzania, Uganda, Kenya, South Africa as well as Rwanda provide such destinations to ensure a great trip for your whole family. You should carry out adequate research about the different safari destinations beforehand so that you can make an informed decision and to avoid inconveniences that might come as a result of going on safari with children.
Many of our Tanzania safari itineraries fit as family friendly tours, but for those that are not we can always customise them by including family friendly lodges and camps and / or include flights for transfer between destinations to make the distances bearable to the kids. Our specialists can customize the tours for free; no customization charges.
Keep their favorites in mind
Any kind of safari can blow your children's minds however their experience would be much better if you included viewing the animals they love and adore. Different animals are found in different areas so it is better to select a destination where their favorite animals can be seen.
If your little ones love the big cats, Tanzania's Serengeti national park will be the perfect destination for you. If they would love to interact with monkeys, it is better to choose tropical parks and reserves where monkeys live in large numbers.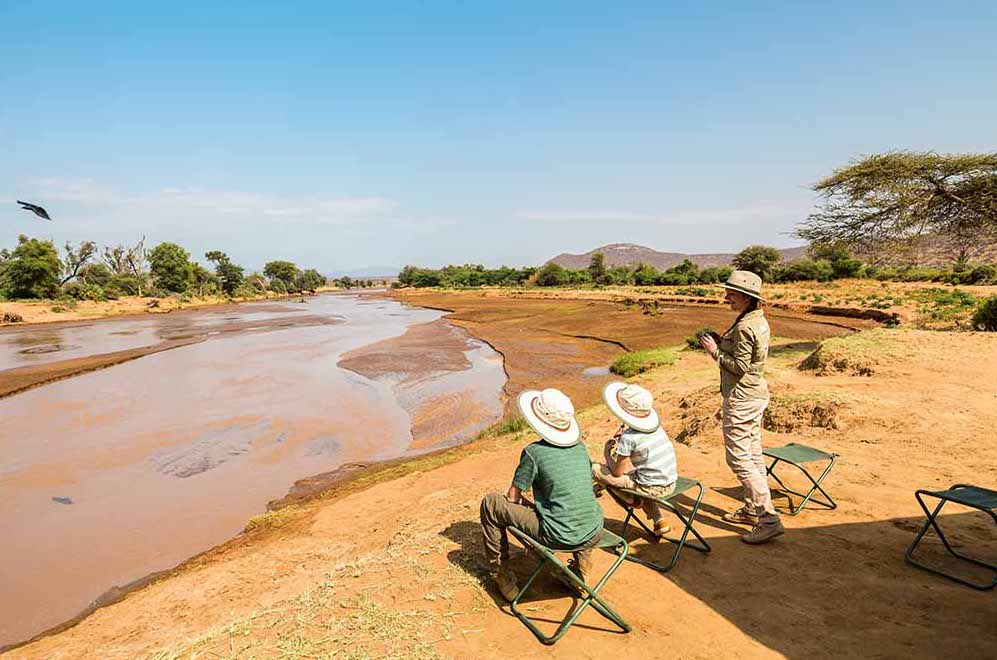 Engage your child as you Planning an African Safari for Kids
There are a number of opportunities to involve your child in planning for the safari and as this will get them excited about the trip. If your child is still studying, this safari provides a good learning opportunity about the different animals.
Before the trip, a few weeks in advance, take some time to learn about the animals that will be in your safari destination or the different plant species and natural elements in the area. You will be overwhelmed with joy when your child can identify something that they learned in one of their books or saw on television.
What to pack
When it come to packing for children, it can be a little bit difficult since this is not a way of life that most people are used to. However you can pack the essentials if you know a little about your safari destination. The weather in most destinations is unpredictable so you should pack for both hot and cold conditions. During the day, it is usually very hot however the temperatures can drop drastically in the evening. You are advised to dress in layers and also carry some clothes that can be worn when it is cold like warm socks, gloves or thermal pajamas. Light clothes are also recommended for when the temperatures are high. This information is essential in the early planning phase for an African Safari with your children.
Choose the Best time to Travel
Going on a Safari in most cases requires traveling long distances which can mean a day or two of traveling in airplanes, layovers as well as many hotel stays. You need to prepare your kids for this amount of traveling by starting them on smaller trips that can improve their travel tolerance. This can also help you learn what kind of toys, snacks and levels of comfort can keep your child calm while traveling. Spending on big-ticket items like a children's travel bed are other choices you can make especially if you can afford them.
Prepare them to meet new people with different culture
Going on safaris implies interacting with people of different cultures, trying new food and learning new languages. Exposing your children to new cultures can broaden their minds however children are not usually open to change. If your child is a picky eater, try introducing them to new food before going for the safari and teach them the basics of the native language to help them feel included. Do not forget to warn the children before going on a safari against pointing, making certain comments or insulting people in order to avoid embarrassment.
Search for child friendly tours and accommodations
Most tourist destinations are child friendly and know how to introduce the kids to the animals and their surroundings. Some tours however have age restrictions (such as game drives, and gorilla trekking) therefore it is important to check the available tours beforehand to find out about their age restrictions and avoid inconveniences in the future.
Most camps, lodges and resorts also have age restrictions so you should find out before traveling instead of assuming that children are allowed and booking. It can save you a lot of time and money to call ahead of time.
Opt For Places with Several Options
Children are always excited to see animals but after a couple of days it is no longer exciting. Do not solely depend on the animal tours to keep the children entertained for the whole safari. The kids will get bored. You should find safari destinations with a variety of attractions so that you can have many options and can keep the kids on their toes. These places should be located near the beach, market places or the museum. For trips that will last for about a week, you should have at least three attractions nearby. The number of attractions increases with an increase in the amount of time spent on your safari.
Bring extra Entertainment
Parents should carry some extra form of entertainment for their children. Safari tours usually involve other families so you can take a day off. It is a great idea to have some form of entertainment to keep the kids distracted and occupied in between fun moments. This entertainment can be a toy, iPad or book depending on your child which can be shared with the other kids at the safari.
How to handle change in Time Zones
Children do not handle change as well as adults do. For most adults, jet lag is inevitable. You should be patient while your child adjusts to the new time zone. Carrying sleep remedies like melatonin gummies make the transition easier and reduces irritability in the kids.
Sleeping in the wild
Usually families choose to sleep in resorts, lodges and camps which place them in the middle of the wild. These resorts are spectacular but they are in the middle of the action all day long since the wild doesn't rest. Hyenas can be heard laughing, monkeys howling and other nocturnal animals that are active during the night at such resorts.
You should ensure that your child is a deep sleeper or will not be scared to sleep because of the sounds of the wild animals close by.
Safety precautions
Most safari destinations are very safe and secure because of the experienced professionals in charge however there are certain areas where you need to ensure the safety of your child personally. Ensure to pack insect repellant, to reduce mosquito bites and bites from other insects in the wild.  Make sure to also carry enough sunscreen with a strong SPF in areas where the sun is excessive.  Do not forget hats and sunglasses also to protect against the sun.
Always have enough water on your person to keep rehydrating especially in areas with intense sun. You should ensure that your children are wearing shoes all the time.
Acquire the Necessary vaccine shots and medicine
Different parts of Africa have different vaccination requirements and immunizations. Your children's bodies are not exposed to these areas therefore it is important to protect them or they will be prone to diseases like sleeping sickness, malaria or dysentery.
Check with your child's doctor to ensure that the vaccinations are up to date and ensure that they receive the additional vaccinations for your trip.
Some vaccinations take a little while to take effect so they should be taken as soon as possible to give them time to kick in.
What your children should know before traveling
They need to know that these animals are not civilized like people are and neither are they domesticated. They do whatever they want to do when they want to do it without caring about who is watching. They could go to the bathroom, fight, mate, hunt, eat at whatever time is convenient for them.
You should tell children what to expect before having to explain why two elephants are "hugging" each other. It is even better to show them various wildlife documentaries before you take them for a safari so that they are not to surprised and know what to expect.
Finally Plan the perfect Safari Holiday for your family
Taking an African Safari with your children is a truly memorable experience. You will be broadening their scope and enriching their minds with all the new things they will see on the trip. You will also instill in them the culture of travel and adventure. However before all this you need to carry out enough research and prepare meticulously beforehand.
please contact us for any further information about Kids' Safaris in Tanzania and our tour experts will help you organize your dream family safari with kids.