Ngorongoro Serena Lodge by international standards can be classified as a 5 star lodge and more so by East African Standards of accommodation. One of the few lodges built on the rim of the world's largest caldera, Ngorongoro Serena Safari Lodge is an excellent lodge where one can spend the memorable night prior to the unforgettable visit to this world's eighth wonder that is Ngorongoro Crater.
Ngorongoro Serena Lodge view over the Crater floor
The rooms have balconies overlooking the Crater floor, and due to the low temperatures that owes to the high altitude; the rooms are fitted with central heating systems to keep warm during the cold seasons. The rooms are spacious and with the marvelous architecture, you are bound come again to this lodge some other day.
An indoors dining room and lounge with a fixed telescope helps you look out for the animals on the crater floor making you even eager for the great day that lies ahead of you. If you are staying here after the wonderful day at the Crater floor then you will wind up the experience with log fires in the evening wishing you were not leaving.
All blended with the renowned Serena Management, you are in for a great treat. In case you need any information on incorporating Ngorongoro Serena Lodge in your safari Package please kindly contact us by email.
Additional information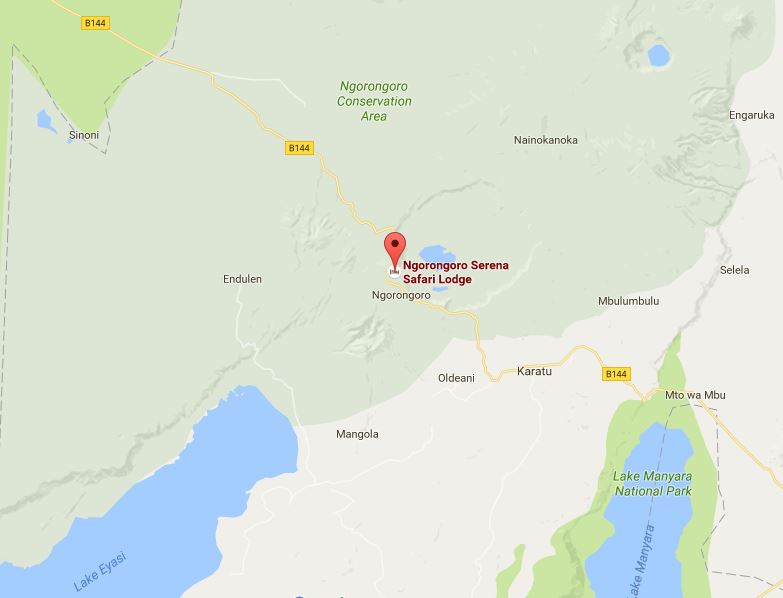 A Total of 75 rooms including
1 Suite
44 Twin rooms (with two beds inside)
15 Double rooms (with one big bed inside)
15 Triple rooms (for 3 people)
Family rooms for families
Most rooms with view over the Crater floor
Rooms have Mosquito nets
Power outlets for hair dryers and shaver sockets
Children menu
Baby sitting services
Free WiFi
Internet services
Telephone services
A restaurant and a Bar
A gift shop and a Safari Boutique