The tropical and very peaceful Zanzibar Archipelago is found within the Indian Ocean immediately off Tanzania's coast. The Island which year after year has become a popular tourist destination for people on a Tanzania Safari is surrounded by a number of smaller islands, with the major islands being Unguja, Pemba and Mafia which are jointly referred to as "Zanzibar." Each of these islands offers very magnificent diving experiences throughout the whole year with good visibility and water temperatures ranging from 25°C and 29°C (77°F and 84°F).
This cheerful paradise islands destination has numerous white painted dhows commonly seen sailing in the crystal clear waters of the Indian Ocean that leave a sparking trail in the waters, as well as a characteristic scent of cinnamon and vanilla that lingers in the atmosphere. Despite having some of the most beautiful and quiet beaches commonly visited by couples on a Zanzibar Honeymoon holiday, you will ever encounter, it offers some of the most thrilling diving experiences not only on the continent but in the world at large.
What you should know about diving in Zanzibar
Below we bring you some of the commonly asked questions (FAQ) about diving in Zanzibar which when answer I believe will give you a clearer mind for your diving experience.
What are the Diving conditions?
This is an all year around Zanzibar Beach Holiday destination considering the fact that it's waters are of  average temperatures of 27 degrees Celsius whereas the  visibility ranges from 15 meters to 40 meters especially in the Mwemba Atoll
What to see while diving?
During your diving adventure on the Zanzibar Archipelago you will get a chance to encounter various marine mammals and fish. On a lucky day you may be diving with dolphins or whales, and during the months when manta rays and whale sharks are migrating you might get an opportunity to get close to them however I should say that this is very rare. nonetheless the there are more chances of diving with white-tipped sharks, black tip sharks, hammerhead sharks as well as the gray sharks in addition to ocean creatures like the gorgonians, sea turtles, nudibranchs, spotted rays, morays, leopard rays, tunas, eagle rays, trevallies, groupers, barracudas as well as napoleons.
What should I carry on my diving expedition?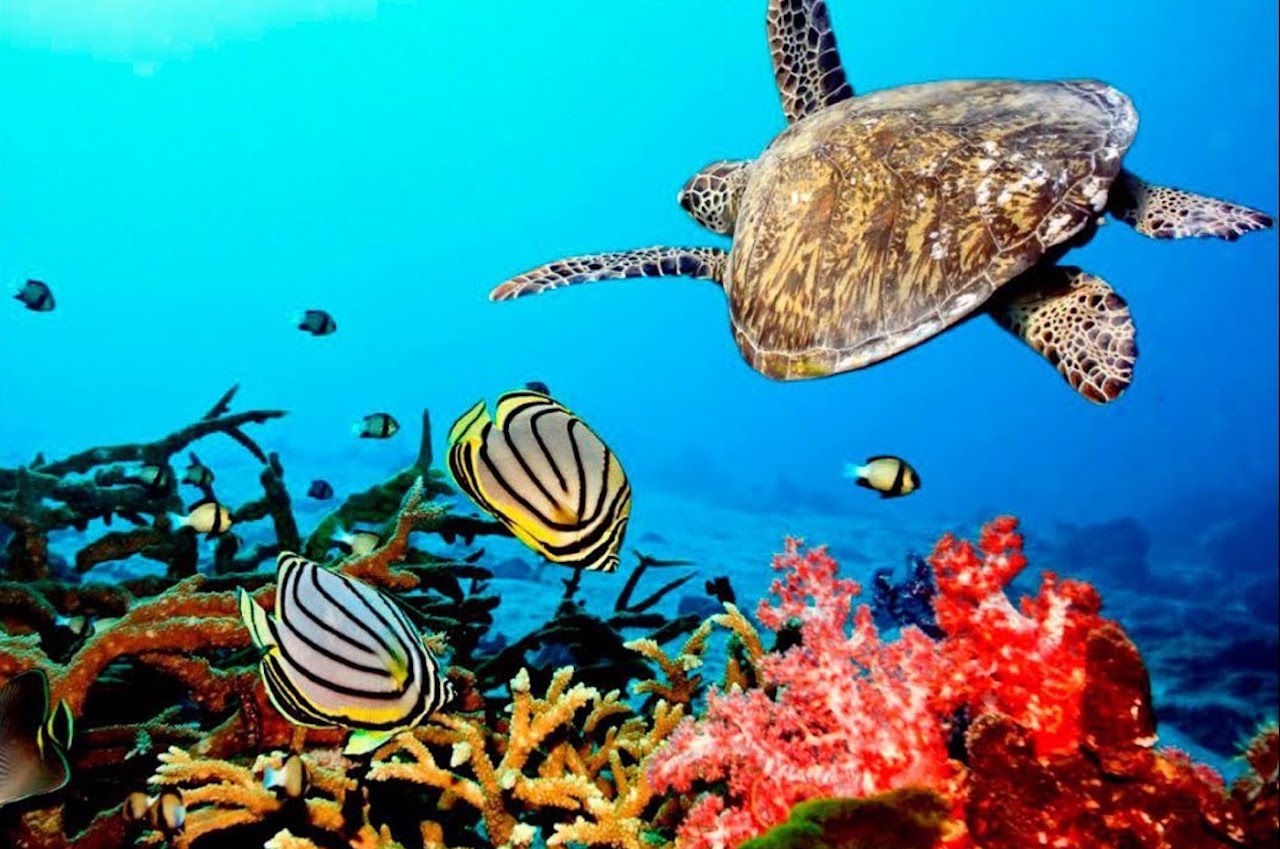 Sunglasses
A towel
A hat or a cap
Sunscreen
Don't forget your diving certificate card as well as a logbook.
What time of the day do we Dive?
Normally the boat leaves in the morning and returns in the late afternoon offering participants two guided dives in the course of the day.
The best time for diving
In Zanzibar it is said that the best time to take a diving beach holiday is in the months of February, March, July as well as in August, however the peak tourist season runs from July to the month of September, and then December to January. From March to May as well as from November to December the island receives some rains.
What else can I do when not diving on the Zanzibar Island?
Well there are very many activities you can engage in such as exploring Stone town, engaging in Zanzibar culture tours, enjoying Zanzibar honeymoon beach holiday, taking a Spice Tour,  enjoy a sunset cruise in a traditional dhow, or visit Jozani forest to see the red colobus monkeys, and depending on the season you can go kitesurfing.
Can a Zanzibar diving tour be combined with other Safaris?
Yes diving Beach holiday can be combined to several adventure activities on Tanzania's mainland such as visiting some of the Southern Tanzania Safari Circuit to see the big five animals in parks and reserves like the big Selous Game Reserve or explore the Northern Tanzania Safari Circuit to visit the likes of Serengeti National Park to explore the likes of Serengeti National Park where you can enjoy Game drives, Hot Air Balloon Safari among many others.
Below are the migration seasons for some of the large ocean creatures when they are seen in large numbers:
Manta rays: from December to April
Whale sharks: from October to February
Black-tip reefs sharks: from June to March
Eagle rays: from June to March
Seahorses: from June to March
Humpback whales: from July to October
Hammerhead sharks: from November to February
However, the hawksbill turtles, White-tip reef sharks and dolphins can be seen all year round
Top 6 best diving sites in Zanzibar
The island is internationally known as a dream Paradise for both local and international divers thanks to the surrounding extraordinary underwater terrains that are made alive with odd and spectacular marine wildlife. According to many expert divers, Zanzibar offers some of the best diving sites on the African continent. It's diving adventures ranges from exploring the old peculiar shipwrecks, taking night dives (ideal for the brave) to swimming with manatees and dolphins; thus offering a very memorable underwater experience. Below we bring you the top diving sites you can visit on your Zanzibar Beach Holiday that will reward you with a memorable diving experiences and good marine encounters.
1.Unguja island
This is the largest island of the archipelago and it is here that stone town -the business and tourist hub is found. Visibility is between 20 meters and 6 meters. There are a number of smaller islands surrounding it that offer exciting diving adventures, and below are some of the best diving places around Unguja Island.
2. Leven Bank
The areas prides in a rich marine life and beautiful underwater landscapes. it is perfect for advanced divers. The site experiences strong currents and makes several drops ranging from twelve meters to fifty five meters. In addition to the wide variety of beautiful corals, some of the commonly seen creatures normally encounter here include: dolphins, nudibranchs, rainbow runners, groupers, white-tip reef sharks, Napoleon wrasse, barracudas, marbled electric rays, honeycomb moray eels, triggerfish, tunas, guitarfish and blue-fin trevallies.
3.Nankivell & Hunga Reef
These two diving sites located alongside each other have depths of twelve meters and sixteen meters, and they offer a nice diving site preferably for beginner divers and those on a Zanzibar honeymoon safari. There are large bommies decorated with vivid Coral formations creating a thrilling background under the water which flawlessly displays the true nature of the Indian Ocean.  Among the Marine wildlife commonly encountered in these two diving sites include: lobsters, reef sharks, surgeonfish, dolphins, parrotfish, barracudas, groupers, snappers, Napoleon wrasse and silver sweet-lips
4. Boribu reef
This unspoiled reef found beneath the water, has weird columna corals as well as remarkable piles of Coral reef kaleidoscopes, large barrel sponges and Gorgonian sea-fans. It is among the best diving sites on the Zanzibar Island and has a plunge that deep approximately 30 meters below making it ideal for experience divers. Lobsters, blue-fins tunas, Moray eels as well as barracudas are some of the aquatic creatures you will encounter here.
Additional diving sites close to Unguja island include: Coral Garden, Kendwa Reef, Turtle Gap, Leon's Wall, Chakatuni, Mbwangawa, Kichafi, Renco BommiShane's Reef as well as, Misoli.
5. Mnemba Atoll
Approximately four and a half kilometers off Unguja Island's north eastern coast, is this private Mnemba Island which is surrounded by beautiful coral reefs offers habitat to a diverse range of marine life. It is best known for its common dolphins that are commonly seen. Some of Africa's finest diving sites are found here. People on a Zanzibar Beach holiday irrespective of whether they are experience or beginner divers, people enthusiastic about snorkeling or a person interested in watching marine life; then the Mnemba island is the best place to go. The visibility is very good ranging between 10 meters to 30 meters. Mnemba is surrounded by a number of nice diving sites as highlighted below.
6. Wattabomi
This is yet another popularly known diving site found in Zanzibar close to the Mnemba Island. it's beautiful landscape beneath the water gently drops from 6 meters  to 50 meter making it a perfect place for reef diving and drifting accommodating both experienced and beginner diver's. It warm clean waters offer a good Zanzibar holiday destination not only for honeymooners but families as well including kids. The colored kaleidoscope that comprises of large Coral bunnies plus plate corals is a natural playground for several underwater creatures among which are the bottle-nose dolphins, giant trevallies, angelfish, frogfish, blue-spotted stingrays, stonefish, black snappers, scorpion-fish, groupers, octopuses, flounders and red-toothed triggerfish.
If your plan of a perfect holiday is diving in clean, clear and warm water, as well as discovering colorful, picture-perfect underwater fauna while taking your kids along, then Kichwani is the perfect place to go, it's not only a perfect family holiday destination but ideal for a Zanzibar Honeymoon Holiday as well. This site is nearly a vertical wall offering a great drift and reef dive whose drop ranges from to meters 2 meters to 30 meters making it perfect for snorkeling, novice divers as well as advanced divers. During your underwater adventure here, you can search for Napoleon wrasse and the white tip reef sharks in addition to other creatures such as nudibranchs, torpedo ray, goatfish, crocodile fish, snappers, moray eel, mackerel, scorpion fish, frogfish, leaf fish, trumpet fish and clownfish
This is perfect popular as a site for advanced divers, with a drop ranging from 14 meters to 70 meters and experiences strong currents. The site offers a gentle descent along a vertical large wall that offers adventurous divers an opportunity to see mystifying caves as well as magnificent overhangs decorated with sponges plus soft and hard corals. When you adventure into the deeper parts of this site you will encounter the big pelagic fish. Among the marine creatures commonly seen here are: hammerhead sharks, moray eels, batfish, dolphin fish, unicorn fish, lobsters, rays, giant green turtles, groupers, tunas, Napoleon wrasse, rainbow runners as well as barracudas.
The aquarium is among the most beautiful diving sites around the Mnemba atoll that you can explore when on a Tanzania beach honeymoon Safari. It has a coral wall that slopes between depths of 10 meters in 24 meters. This site is perfect for novice divers as well as snorkelers. Inspiring life is found within the thrilling underwater background that is comprised of tough lettuce corals. Among the underwater creatures, commonly seen here are: bigmouth mackerels, green turtles, fusiliers, goatfish, silver sweetlips, snappers, lobsters, blue-fin trevallies, lion fish, butterfly fish, crescent tail big eyes, rays, moray eels, parrotfish, wrasses, surgeon fish as well as the Moorish idols.
Additional diving sites around Mnemba Atoll worth exploring include: West Gardens, Turtle Reef, Jack Fish Spot, Sandbanks, Grouper's Rock, West Banks and the Small Wall.
The remote island of Pemba is a paradise of serenity and tropical sunshine found approximately fifty (50) kilometers north of the Unguja Island. Diving experience around Pemba can best be described as breathtaking as the island is surrounded with pristine coral reefs that give it a status of one of the top diving Sites in the World. While exploring Africa, this is the best place to begin your diving adventure since its coral reefs are one of the healthiest in the entire Indian Ocean. Pemba has the best Visibility in the whole of East Africa with a range of 30 meters to 40 meters, and the average temperatures of its water are 26°C; making it a perfect destination for Zanzibar Beach Holidays. Besides the rich marine life, this island is very green, and is home to several ruins and a great place to learn about the history and culture of the native people living here. Below we have highlighted some of the best diving sites in Pemba
Manta Point is a site for only experienced divers with a depth of forty (40) meters. It has a series of three (3) seamounts that are decorated with colorful coral gardens with thriving tropical fish. From the month of January to March, divers will be rewarded with views of eagle rays and get a chance to swim besides the devil fish. Other marine creature found at this site include: sea stars, surgeonfish, puffer fish, reef sharks, titan triggerfish, turtles, trevallies, jackfish as well as clownfish.
With a diving depth ranging from 3 meters to 60 meters down into the deep blue waters, the Fundu Reef can accommodate all classes of divers plus snorkelers. It has plenty of coral mounds and barrel sponges with several colored fish hiding within its caravans.  It comprises of five different sites that offer amazing insides of the rich underwater life here and these include: the South Wall, Mandela Wall, Crack, Pinnacle and Cora Garden. Among the marine creature seen here are: the kingfish, eagle rays, hump-head parrotfish, Napoleon wrasse, sweetlips as well as the barracuda.
Other nice dive sites around Pemba Island include: Lighthouse, Njao Gap, Emerald Reef, Swiss Reef, Scorpions Secret, Shimba Hills, Pole Pole Mountain as well as Uvinje Gap.
This is the third largest island in the Zanzibar Archipelago. It is found off the western side of the Unguja Island, with several nice diving spots specifically for beginner divers that offer them an opportunity to explore the shallow beautiful reefs that surround this island.
Mwana Wa Mwana
Mwana Wa Mwan is found on the northern part of Tumbatu Island. With a depth range of 5 meters to 12 meters, this stunning coral site offers very exciting and rewarding experience of swimming, snorkeling and traditional fishing.  Its shallow waters enable holidaymakers marvel at the beautiful coral reefs while sailing in a boat. There are nice white-sand beaches which are met by warm water that is home to several colored fish species. Other marine creature seen here include: nudibranchs, blue spotted stingrays, cuttlefish, leaf scorpion fish, seahorses, frogfish, sweepers, ribbon eels, moray eels, green turtles as well as octopuses.
Panza "Paraportiani" Wreck
This is among the top ten (10) wreck diving sites in Africa. it is found resting on the floor of the ocean bed 14 meters below the water surface within a beautiful passage found on Pemba Island's southern tip.  This ship sunk back in 1967, and despite it being a somewhat shallow dive, the area experiences strong current which makes it ideal for experienced divers only. the fascinating channels and the stunning lighting offer divers quite a thrilling scenic diving experience with amazing encounters of different creatures like the crabs, lionfish, unicorn fish, trevallies, glassfish, juvenile Napoleon wrasse as well as groupers.
Misali Island
having a gentle depth that ranges from 5 meters to as far as 40 meters, the various diving sites around this island can accommodate bothe advanced divers as well as beginner divers. Among the three major neighboring diving sites are: Mapinduzi Reef, Makarere Reef and the Coral Mountain. These feature over three hundred (300) species of stunning marine creatures and corals including: nudibranchs, hawksbill turtles, humphead parrotfish, dolphins, lionfish, barracudas, bluefin trevallies, wahoo, Napoleon wrasse as well as the eagle rays.
The Mafia Island
The Mafia Island is a secret paradise where flying foxes and pygmy hippos live amongst citrus and banana trees and gentle whale sharks glide through the glittering ocean. With its pristine walls, slopes and channels, and over 400 fish species, this unexplored tropical island is considered the best dive location in Tanzania.
This is not part of the Zanzibar Archipelago but one of the best diving Sites in the world. Because of its closeness to the Zanzibar and the Tanzania mainland, it would be an injustice if I did not talk about it as well. A beach tour to Mafia Island can easily be combined to your Tanzania Safari Holiday itinerary after visiting the different National Parks. It can easily be accessed from Arusha or Dar es Salaam.
There are several diving sites around this islands whose visibility ranges from 5 meters to 40 meters as highlighted below.
Within the Chole Bay, this is the most popular diving site with a beautiful wall hanging of coral reefs, mysterious overhangs as well as a rock island. The Kinasi pass experiences strong currents and its maximum depth is 26 meters which makes it a perfect spot for experienced divers. there are several marine creatures you will encounter here among which are reef fish giant potato groupers, pelagics, turtles, garden eels, barracudas as well as parrotfish.
Found beyond the Chole Bay, the Dindini Wall has a south and north wall which drop from 8 meters to 28 meters into the warm waters of the Indian Ocean. it experiences strong currents because of its open location offering  a challenging experience to the less advanced divers. Within it's archways, caves and overhangs are beautiful corals and a very large number of marine creatures such as reef fish, dolphins, rays, groupers, turtles as well as sharks.
Addition of nice diving sites found around the mafia island are Kitutia Reef, Milimani, Juani, Coral Gardens (Utumbi), Jina Reef, Mange Reef, Chole Wall, The Pinnacle as well as the Kinasi Express.
How to protect the Zanzibar's marine life during you visit
Physical Contact with the marine life is prohibited
Please do not make any physical contact with the marine life or the corals; a simple touch may totally crumbled sponges or even disintegrate the surface of the beautiful corals
It is prohibited to liter any form of items it be the biodegradable stuff like banana peelings or any other fruit peeling. This unfortunately may be mistaken by any of the different marine creatures, and it's for that reason, we highly recommend that you keep all your rubbish especially plastic water bottles, waste food, snack wrappers and cigarette butts to mention but a few and then you can dispose them once you're out of the water.
Don't take things out of the ocean
Please do not take anything out of the ocean besides your unforgettable memories. Always practice excellent buoyancy control which is very important in enabling you have a relaxed underwater experience with minimal risk of contacting the rock formations or the corals.