There are many reasons that will make you choose a Private safari in Tanzania over a group joining safari tour in Tanzania. We should look at what it means to be on a group safari in Tanzania vs a private tour in Tanzania to understand the difference.
Pre-Scheduled group lodge tours in Tanzania
The group safaris in Tanzania work in two ways. There are pre-scheduled safari tours that Tanzania tour operators arrange for specific dates, usually the tours start selling at least 1 – 2 years prior to the arrival days. These may include international flights or without international flights if targeting people from around the world. These pre-planned tours in Tanzania usually are fixed in terms of number of days and nights that the tour takes, the accommodation used on the safari, as well as the dates that the tour runs. Nothing is flexible!
Open Group Joining safari tours in Tanzania
The other group tours or as they are mostly referred to locally here in Arusha, Tanzania 'Joining safari; are not pre-scheduled for certain dates. They run daily out of Arusha town and these are group tours that are open for anyone to join through any safari operator that offers these tours.
On these group tours the guests travelling in any particular safari are from different like-minded tour operators who combine clients in one car in order to fill seats in one car. These can be booked even on last minute but the car leaves from Arusha at 0800 Hrs so booking your tour at least an evening before is usually highly recommended. In this kind of group tours in Tanzania also there is no flexibility in the program or parks that are visited or even starting time and finishing time of safari activities. Everything is fixed and controlled by the guide.
This one is only operated as a basic camping safari in Tanzania, no staying in the lodges or permanent camps that have private bathrooms. Everything except the tents is shared. Read more on basic camping in our Tanzania Camping safari page.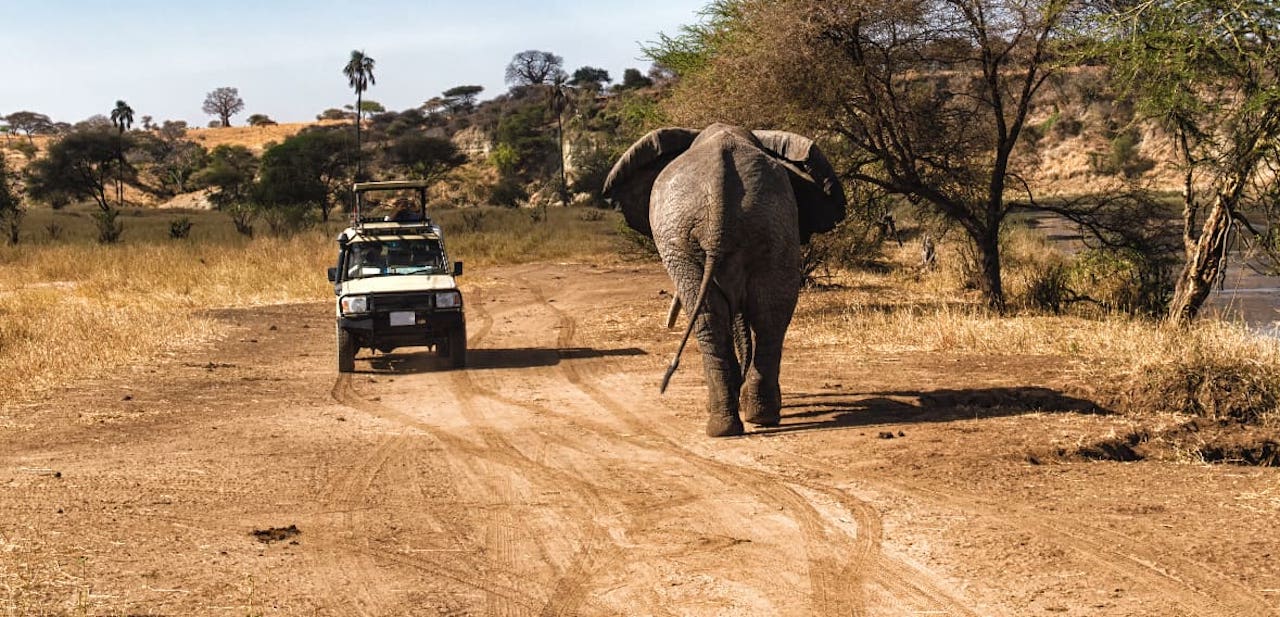 You may also be interested in our Tanzania safari and Zanzibar tours.
Private safari tours in Tanzania
We have given a short insight on the private tours in Tanzania and now it is time to explain to you what it means to have a private tour and why it good for you to book a private safari tour, over a group tour.
On your Private Tanzania safari; it will be no one else apart from you, your travel partners and your private safari guide in your 4×4 safari car. Usually we limit the number of persons in a car to 6 because the extended safari Landcruiser usually accommodates 6 passengers at the back (passenger side). In a group tour on the other hand you might be even 7 people in the safari car. We also offer private safari from Zanzibar.
Here below are 5 top reasons why you should consider doing a private tour in Tanzania than a group tour.
1: Flexibility for your safari
There is definitely more flexibility when you take a private tour than doing a group tour. You get to do things at your own preferred pace when you are on a private trip. This doesn't necessarily mean that you will be the only one at the lodges or inside the car though. However you will have all the freedom to discuss with your safari guide in the evening on the next day's activity ad time schedule and you have the flexibility to change anything as long as it is within the park's entry permit allowance and the park's rules and regulations. This is not something you can do while on a group tour in Tanzania.
2: Follow your dreams
Contrary to a group tour, you may have a particular animal for example the rhino and ask your guide to spend enough time searching for Rhino. This is not possible on a group tour because there will definitely be a conflict of interests with different people with different wished for their African safari in Tanzania.
3: Your wishes is our command
The best thing about Private safari in Tanzania will is without a doubt the ability to decide what you wish to do at what time as long as there is no conflict with park entry permits and park rules and regulations. You have the chance to discuss with your guide on what time you wish to wake up and what time to finish your safari game drives.
4: No conflicts with Strangers
Very often it happens that a traveler on a group joining safari has found himself/herself in a point where he/she doesn't want to proceed with the safari anymore because of bad chemistry with fellow group safari goers.
Imagine yourself in the middle of the Serengeti National Park feeling like taking a taxi back to Arusha, something that is not possible, while you still have around 3 more days of safari that you have paid for.
You can avoid having your dream for a safari of a lifetime shattered by a drunk stranger or a stranger with bad attitude. By taking a private safari it means you are not stuck in the midst of strangers that you don't want to spend the next one second with them.
5: Choosing your own safari travel style.
One of the questions that most travelers ask is what is the best time to visit Tanzania? The best answer is; it depends on what you are interested in doing / seeing on your safari to Tanzania. Another one is which is the best accommodation on safari? The answer is the same; it depends on what you prefer and your budget.
On a private safari you will be able to choose when to travel to Tanzania for safari while also having the flexibility to choose which lodge or tented camp you wish to stay in. Something that you cannot do when joining a pre-existing tour or joining the daily departures in Arusha.
Midrange or budget , deluxe or top market / high end safari, the choice is yours when you are planning for a private safari in Tanzania!
Simply put; it is always better to do a private safari in Tanzania, Enjoy your Tanzania safari!