Tanzania offers a great variety of walking safaris varying from the short day walks, full day walks and the longer walking expeditions that may take several days. These can be conducted both along the northern Tanzania safari circuit and the southern safari Tanzania circuit and they will reward you with a very unique way of experiencing the gifts of Mother Nature.
Taking a Tanzania walking safari is considered to be for the more adventurous holiday makers as it will offer you a totally different experience from the ordinary game drives as you will be personally encountering the natural habitat of the animals rather than being a spectator driven around in a Car. the opportunity to walk along trails that are used by different animals like buffaloes, antelopes; the smell of the wild bush and the sound of a trumpeting elephant or a roaring lion in a distance is all very thrilling and will give you an experience matched to no other.
6 best places to have a walking safari in Tanzania
Tanzania Safari Supremacy is a leading organizer of memorable Walking Safaris in Tanzania and each walking safari is lead by a highly qualified guide accompanied by an armed park ranger. The walking safaris are conducted in several national parks across Tanzania; below we have highlighted the top 6 tourist destinations to have a walking safari in Tanzania.
Selous Game Reserve
The Selous is Tanzania's largest gazette wildlife habitat whose landscape is comprised of rivers, woodlands, lakes and plains that support a great diversity of wildlife. The large network of foot paths that connect the lakes and rivers offer holidaymakers a great opportunity to see different animals like crocodiles, elephants and hippos. You will also be able to see innumerable tracks other animals such as lions and civets that would have traversed the same trail. You will also be able to explore the lake shore were you can later enjoy a picnic as you watch the animals that come to quench their thirst there.
Serengeti National Park
The Serengeti national park is internationally best known for the annuals wildebeest migrations a spectacle that shows one of the largest numbers of wildlife animals migrating for a common cause. Most of the game viewing conducted in the Serengeti is done in safari vehicles however, we are glad to inform you that walking safaris can also be conducted in the Serengeti national park.  There is a very large area in the park which is limited to only walking safaris and no vehicles are allowed. Here you will enjoy an up-close encounter of the wildlife, observe miles and miles of terrains from up on  a rocky outcrop and see the amazing gifts of Mother Nature that make the Serengeti a very remarkable game park. For those on multiple days walking safaris in Serengeti, you will enjoy a bush dinner and share some nice stories around a fireplace before camping under a starlit sky.
Ruaha National Park
Ruaha National park is home to a great diversity of flora and fauna that you will be able to personally encounter during the walking expeditions. Animals like the Sable antelope, waterbuck, greater and lesser kudu and the roan, can be easily encountered while predators like lions can also be sighted around the banks of the river. Holidaymakers taking a multiple days' walking tours will best do so while in a mobile camp safari.
Ngorongoro Area
The walking safaris conducted in the Ngorongoro extend beyond the Crater and these are normally led by local Masai guides with their donkeys. In fact, these are adventurous more of walks in the wilderness and cultural encounters than the extreme game viewing drives, and the great network of trails through woodlands, ridges and hillsides takes you all the way to Olmoti, Empakaai and Lemagrut where you will be rewarded with views of animals, birds and flowers.
Tarangire National Park
Located along the northern safari circuit of Tanzania, the Tarangire NP is sadly under looked by many holidaymakers especially because of the famous Serengeti. However, the park offers very amazing walking safari expeditions which are conducted in the southern part of the park which is wilder with a network of walking trails that joins the rivers and springs. The dry season is very amazing as a large number of wild animals cross from the neighboring dry Maasai Steppe to quench their thirst in river Tarangire offering tourists on walking adventures a better opportunity to encounter them.
Katavi National Park
Because o the remote nature of Katavi National Park, it does not receive a large number of tourists as compared to many other national parks in the country. Most people who visit this park engage in multiple days safaris that take 2 to 3 days and surprisingly many people will not believe the large number of animals found here not until they see them. The hippo pools here hold large schools of hippopotami of up to one hundred members, crocodiles and many other animals can all be seen in large numbers especially during the dry season when the vegetation is thinner rewarding you with clearer game views.
Best time to take a walking safari in Tanzania
Because Tanzania is a large country different parts of the country experience different climatic conditions. In order to offer our clients a clearer understanding of when to take a walking safari in Tanzania, we are going to look at each destination separately.
Best Time for a walking Safari in Selous Reserve
The vast Selous Game Reserve comes to life again during the dry season which begins in the month of July to October when the vegetation becomes thin and dries up offering clearer game views and a large number of wild animals congest around the few remaining water sources to quench their thirst. This is a good time to take a walking safari as this reserve. However those of you interested in exploring the verdant vegetation and seeing the prolific birdlife can visit during the green season.
Best Time for a walking Safari in Serengeti National Park
The renowned Serengeti National Park offers various trails for walking safaris across its vast terrain and these will depend on the time of the year you visit. From July to October when the park is experiencing the dry season, a safari in the northern part of the country will give you a chance to see the dramatic wildebeest migration that includes millions of wildebeests, gazelles and zebras trying to cross the River Mara which is crowded with a large number of giant hungry crocodiles. On the other hand, the rolling hills and verdant valleys of central and southern Serengeti offer you an opportunity to see other resident wildlife in the Serengeti.
Best Time for a walking Safari in Ruaha National Park
During the wet season, due to great availability of water and vegetation, the wild animals in Ruaha tend to disperse at this time of the year making game viewing rather harder. however from June to October when the park is experiencing the dry season, there is scarcity of water and the vegetation has nearly dried out which compels the animals to congregate around the few remaining water sources making game viewing much easier. Therefore the best recommended time to take a walking safari in this park is from June to October.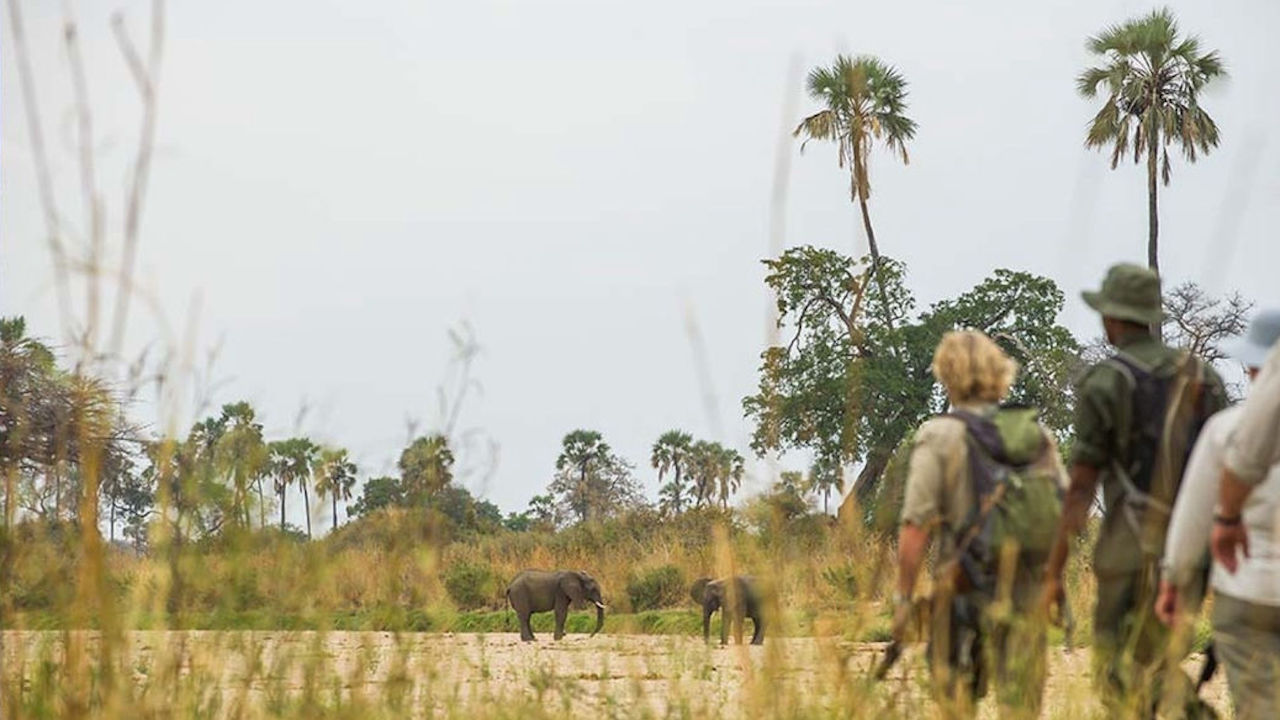 Best Time for a walking Safari in Ngorongoro Area
The best time to explore the Ngorongoro area is during the dry season when most of the vegetation cover is thin allowing uninterrupted game vies and many o the water sources have dried up. also visiting from December to may will give you a chance to explore the dried up river bed and water streams as you head towards the Olduvai as well as the Ndutu plains.
Best Time for a walking Safari in Tarangire National Park
it's with no doubt that from mid-July to towards the end of October when Tarangire is experiencing the dry season is the best time to have a walking safari here. During this time, the few waterholes down the course of the then drying out River Tarangire attract an amazingly large number of animals. The wet / green season on the other hand is very rewarding especially for persons interested in watching the rich birdlife of this park as many migratory bird species are flying in.
Best Time for a walking Safari in Katavi Game Park
The remote Katavi Game Park found in south western Tanzania can best be visited for a memorable walking safari expedition during the dry season that runs from July, August and September when the vegetation cover is very thin and this will enable you to see various animals including buffaloes, antelopes and hippos. As the rains begin in the green season, the drying out vegetation comes to life again and before long the park is green again.
What to pack for a walking safari in Tanzania
When we talk about what to park when going on a safari in Tanzania, there are a few main guidelines that you should follow to enable you enjoy your adventure as highlighted below, however, the most important of all is to ensure that you are very comfortable.
Avoid wearing bright colored clothing as well as white ones because most of the walking safari destinations in Tanzania are round in dusty rural areas.
Wear long sleeved shirts to protect against the hot African sun. Its highly recommended that  you opt for breathable materials.
Although shorts are ok, lightweight trousers are highly recommended to protect your legs from insect bites and thorny bushes. if possible opt for those with detachable legs that you can turn into shorts easily.
A wide brimmed hat preferably with straps is highly recommended to protect your face from the sun, and the straps will prevent the hat from flying off especially during windy conditions.
A pair of UV-filter sunglasses
Sunscreen with high
Waterproof sturdy hiking boots with ankle support
Reusable water bottle because you will need to hydrate a lot due to the arm temperatures of most of Tanzania. It is better advised to get one with a shoulder strap to ease moving with it.
Light pack water roof back; in this you will be able to keep some of your personal items such as a camera, a pair of binoculars small note book and pen, lightweight rain  coat, sunscreen, a few snacks and anything you may night to take with you.
Nice and comfortable Hiking boots will be a plus for you especially if walking in areas that can be wet sometimes like the high altitude areas of Ngorongoro Conservation Area.
Waking safari in Tanzania can be combined with regular traditional Tanzania safari and Zanzibar tours. Get in touch with our expert safari advisors for more on how to incorporate walking on you next Tanzania trip.
See you soon when you visit Tanzania for safari, and we get to guide you on a walking safari in Tanzania!