Zanzibar is not a vast island, and that means that it's quite easy to get around and explore every hidden bay and rocky outcrop in this famous semi-autonomous island that together with Tanganyika makes up the Republic of Tanzania in East Africa. The Island measures approximately 100Km from north to the south, while from west to east it is a short distance of approximately 40km.
Those are the measurements of the Unguja Island which is the main Island of the Zanzibar Archipelago and ordinarily the one that is referred to as 'Zanzibar' despite the archipelago having several other islets.
On your visit to Zanzibar you'll find remarkable pristine white sandy beaches on the east coast shielded from the Indian Ocean by a barrier reef. On the west coast in the other hand there are great beaches, but the east coast of the Island is the place to be.
See our Tanzania safari and Zanzibar packages that we can customize any time to suit your tastes, needs, and budget.
How many days do you need in Zanzibar?
It is recommended to spend at least a week or two and dip your toes into the amazing soft white sand of a new beach each day, dive and snorkel in the crystal clear waters, simply enjoy wallowing in the warm waters of this tropical island or even try your kite surfing skills.
The Island is not short of activity options. You may also take a day tour of the Prison Island, or Jozani Forest a famous reserve famous for its red colubus monkeys. You may also tour the historical Stonetown or take an awe-inspiring tour of Kizimkazi in the south of Zanzibar where you can swim with the Dolphins. Whichever activity you choose or side of the island that you pick, the island is a great extension for combined tours that includes wildlife Tanzania safari tours. Check out our Serengeti Safari and Zanzibar beach package that lasts 10 days in both mainland Tanzania and Zanzibar Island.
Nungwi beach in northern Zanzibar
Nungwi is well known as one of the best beaches on the island of Zanzibar and Africa at large. The sea, with several shades of blue, softly rolls onto a beach of fine pristine white sand. The beach at Nungwi is host for a number of beach resorts and hotels as well as backpacker guest houses and inns, and is impeccable for swimming. So once you're all wrinkly from being plunged in the water and have baked in the stunning sun to your satisfaction, you can step off the beach and relax with sundowners and continue enjoying the beautiful view. The rock formations break up the beautiful scenery seamlessly and add to the splendor of this wonderful beach.
Kendwa beach in the north-west of Zanzibar
Unquestionably the best beach on the western side of Zanzibar island is Kendwa beach which is just a stone's throw from Nungwi in the north, so Kendwa is also referred by many people as Northern Zanzibar. Just like it is with other top beaches, the sand is pristine white and fine. The water along this beach line is azure blue and the area has the benefit of perhaps being a little less visited by other beach lovers. Contrary to Nungwi beach, Kendwa is a private beach, but is also perfect for swimming. See a few of our packages that we have published as sample Tanzania Safari and beach packages to see if any of these may appeal to you. Didn't see what you are looking? Don't hesitate to contact one of our travel experts for Tanzania safari and Zanzibar beach for free advice on how to combine a visit to mainland Tanzania and the island of Zanzibar.
You may like our two weeks Tanzania safari and beach Zanzibar or sample other bush and beach tours that we have listed on our website.
Matemwe beach in the north-east of Zanzibar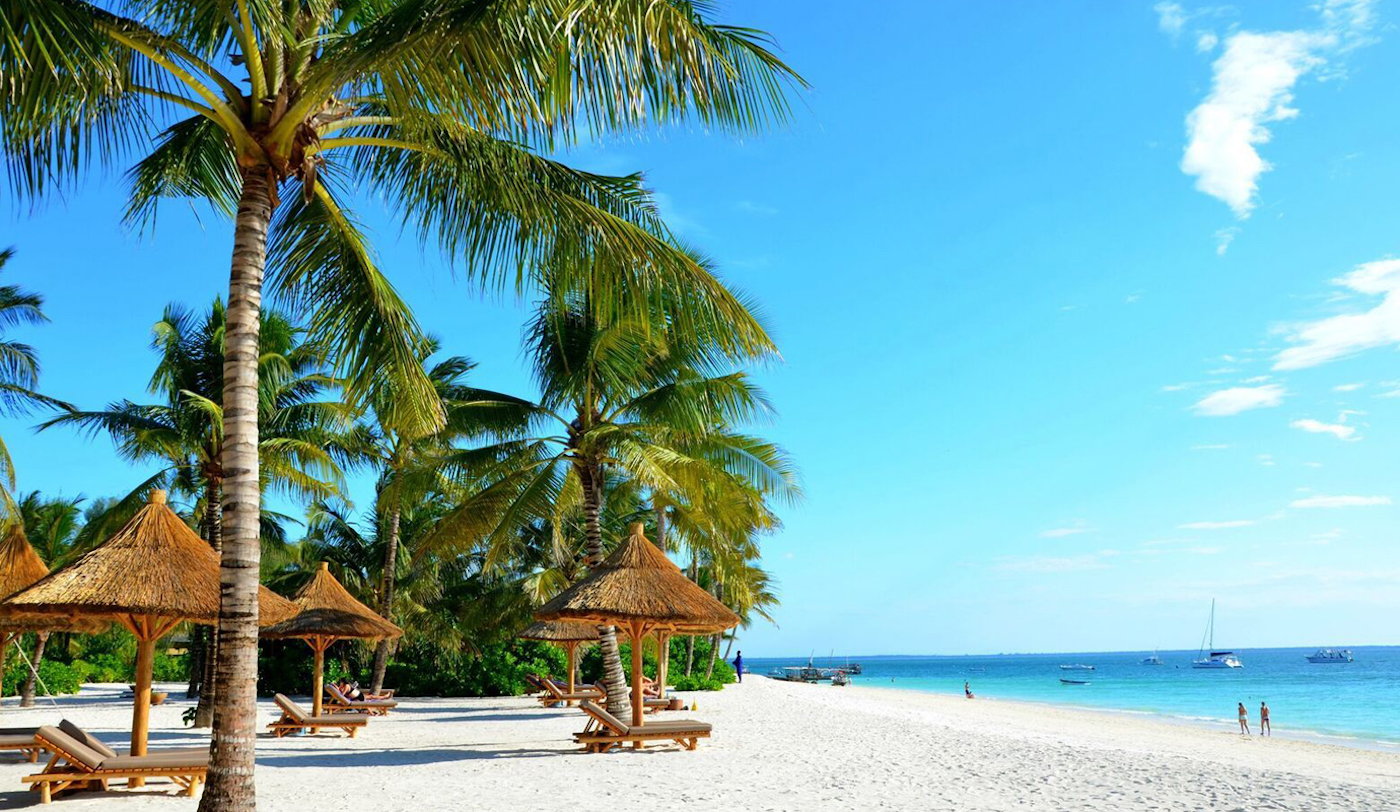 Overlooking the bay to the picturesque island of Mnemba which is arguably the best diving site in Africa, Matemwe beach has continue to gain popularity with visitors and many a beach lovers throng this area every year. While during low tide you may need to have a little bit of a walking to get to the deeper water to take a perfect swim, the scenery here is just spectacular. During the high tides, Matemwe is simply the ideal beach for any beach lover.
Kiwengwa beach & Pongwe beach in east Zanzibar
These small towns of Kiwengwa and Pongwe on the east coast of the island offer more seclusion than some of the other areas in the north and therefore offers a great beach for anyone seeking a less touristy beach area. With superb beaches that are highly influenced by the low tide, Kiwengwa beach and Pongwe are ideal for wallowing in the shallow waters and unwinding with partners in case of a honeymoon in Tanzania and Zanzibar or friends and family. Although Kiwengwa is a more popular beach with a number of large resorts that are great for families, Pongwe is less popular due some areas having a rocky seabed. Pongwe Beach Hotel however in the same area has an unbelievably beautiful beach and a popular spot with honeymooners especially with their Sea view suites that feature private plunge pools. Pongwe Beach has been voted as the best beach on TripAdvisor severally.
Kizimkazi beach in southern Zanzibar
Kizimkazi area is mostly still remote and is the ideal spot for diving and snorkeling if you are an ardent diver or snorkeling lover. Whenever the tide is good, you may find that the whole beach is all yours to enjoy and therefore the area is a perfect beach area for those seeking seclusion during their stay in Zanzibar Island. The most important way to enjoy this beach area of the island is to check the tides, then plan your activities well in advance, and take a walk to see what you can find.
Kizimkazi beach is the only area in the island of Zanzibar where you can enjoy swimming with the dolphins in one of our activities that we offer in Zanzibar. You can easily combine the Dolphin tour in Zanzibar with a tour of Jozani forest where you can watch the golden monkeys. You can combine our Tanzania safari tours in Northern or Southern Tanzania with dolphin tour in Kizimkazi.
Bwejuu beach & Dongwe beach in South East Zanzibar
The beach from Bwejuu to Dongwe is a seemingly endless beach in south Eastern Zanzibar. From Bwejuu beach in the south to Dongwe towards north, the beach appears to go on forever. White sand, turquoise sea water and the random fishing boats sets the scene in this beautiful part of the world. There are several hotels in these two areas and the beaches are perfect, for swimming, snorkeling and totally relaxing in paradise. Some of the hotels in this area includes the midrange Dongwe Ocean View, Milele Beach resort in Pingwe, and The Sands Beach Resort.
Paje beach in South East Zanzibar
This part of the island is the best area for thrill seekers. If you want to try your hand at kite-surfing or sailing this is the place to be! Though the area is not very ideal for swimming at low tide (just like Matemwe beach), the beach is unbelievably beautiful and is the perfect place to enjoy some sunshine, relax in the shade, or pop into one of the hotels in the area for a meal and a drink or two.
Zanzibar Island historically has been a trading destination for hundreds of years with various countries laying eyes on the island's spectacular coastline. There isn't a reason for you to visit and leave as quickly as they did in the past though. Zanzibar Island is fast becoming a favorite holiday destination for many vacation seekers, mainly due to its extraordinarily beautiful beaches.
If you are planning to travel to Tanzania and combine your Tanzania safari and Zanzibar or fly to Zanzibar for a beach vacation of a lifetime, do not hesitate to get in touch with you by email or chat with one of our travel consultants via WhatsApp or simply give us a call today to start the journey of a lifetime to some of the world's best beaches.