Electronic Visa for Tanzania – Electronic Visa for Tanzania is now a reality. After neighboring countries implementing E-Visa services for some time now, Tanzania which is by far the best country for African safari has now followed suit so you can now apply for your Visa to Tanzania online.
How to get visa to Tanzania online
To apply for an Online Visa to visit the United Republic of Tanzania (both Tanzania Mainland and Zanzibar) you will be required to fill in the online form on the form here, then the next step is to make payment by Credit Card/Debit Card, and then submit your application online.
Your form will be internally reviewed and processed by Immigration Department of the United Republic of Tanzania and if granted an applicant will be notified through his or her e-mail of the out come whether their applications have been accepted or rejected.
In addition, applicants can now also track their application statuses through the online system and if need be; Applicants may as well be required to visit the nearest Tanzanian Embassies or Consular Offices for interviews if absolutely necessary.
Before obtaining the E Visa online Visa for Tanzania
Before you obtaining the E – Visa to Tanzania it is important to consider the below points: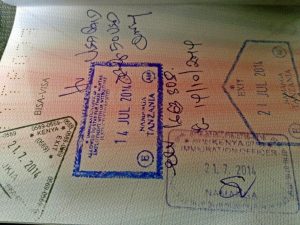 Types of Visa
Required documents
Countries whose citizens do not require visa on entry
Countries whose citizens require approval by the Tanzania Commissioner General of Immigration.
Tanzania Visa On Arrival
As the E visa service continues to be rolled out all eligible visitors to Tanzania will continue to have the chance of obtaining a visa on arrival at any point of entry be it International Airports or Harbors or border points just as it has always been until further directions have been issued by the Tanzania Immigration Department.
If you are looking forward to travel to Tanzania for your next Tanzania safari tour you can visit this link here, to see whether you can be able to apply and obtain your visa to Tanzania online!