Tanzania is one of the best safari destinations on the African continent and ranks in the 10th position in Africa after a survey that was carried out by the Travel and Tourism Competitive Index in 2019. Recent polls held by Safaribookings.com have ranked Tanzania as the number one safari country in Africa for 7 years now in a row, with Serengeti National Park ranked as the number one park in Africa for several years now by the World Travel Awards poll.
Tanzania has a lot of attractions that include National Parks, historical and geological sites and not forgetting pristine beaches attracting all kinds of tourists to the country if not to catch a glimpse of the big five, then to at least explore other parts of the country.
There are a lot of reasons why you should visit Tanzania and some of these include the wildlife, wildebeest migration, and several national parks which include Tarangire, Serengeti, Ngorongoro, Arusha, Nyerere, Lake Manyara, and Kilimanjaro National Park, The Ngorongoro Crater among others, enjoying the cultural trips across the country, especially with the Masai warriors and other endless things that offer a fun experience to travelers.
Tanzania has earned to be known as the best destination for travel lovers and we have listed about 15 reasons why you should visit the country.
1. The Annual wildebeest migration in Serengeti (The Great Migration)
Witness the wildebeest migration which is known to be the best annual animal migration in the world. It involves millions of wildebeests, thousands of gazelles, zebras, and antelopes migrating from Serengeti National park, crossing the Grumeti River and Mara River into Masai Mara in Kenya for better pasture, and when the weather changes, they migrate back to Tanzania and the cycle goes on. The breathtaking experience is one that you will likely never forget from witnessing the calving season in southern Serengeti where millions of calves are delivered and nudged to start walking within a few minutes. The calving season brings about a large crowd of predators that are shockingly sometimes overwhelmed by the large number of calves that are easier prey.
Imagine a crocodile-infested River being crossed by almost thorn-deep brave animals with some being swept away by the running water, attacked by crocodiles, others heading back to Serengeti while the ones that survive move into Masai Mara. The large crowds attract a lot of predators including hyenas, crocodiles, lions, leopards, and cheetahs among others.
2. Wildlife in Tanzania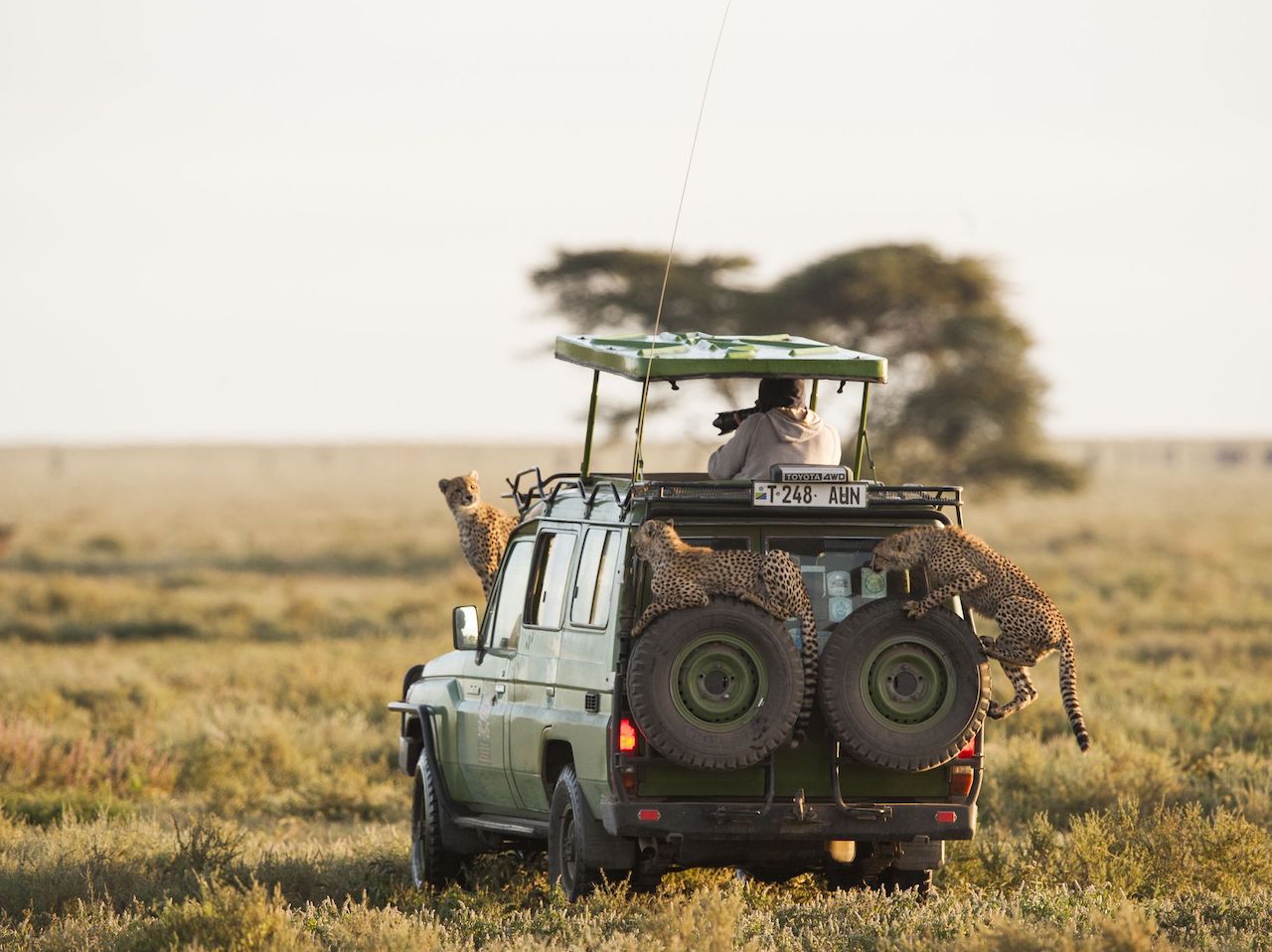 Tanzania is home to over 1000 animal and bird species that are found in the different parts of the country in the gazetted areas. It is home to some of the largest Reserves in the world is Nyerere National Park formerly known as Selous game Reserve. Wildlife that is found in Tanzania include lions, black rhinos, crocodiles, elephants, different types of antelopes, hippos, wildebeests, African wild dogs, baboons chimpanzees, African civet, monkeys, hyenas, cheetahs, Topis, and hundreds of bird species. The best to go for a game drive in Tanzania is during the dry season when the animals can easily be seen because of the thinning vegetation and less water whereas the wet season is best for a bird watching safari and tourists traveling on a low budget.
You can read more on wildlife in Tanzania on our post about the 20 animals that can be seen in the Serengeti National Park.
3. The Ngorongoro crater
Ngorongoro crater is located in the Ngorongoro Conservation Area which spans over 809,440 ha. It is part of the northern circuit safari destinations in the country and some of the safari activities that are carried out here include a drive to the crater, exploring the Olduvai Gorge museum where the first fossils were discovered, birding, and visiting the footprints at Laetoli.
A jewel hidden in the Northern part of Tanzania, the crater is the world's largest caldera that is still intact after thousands of years. The backdrop that is provided by the caldera, the grasslands, and the lake attract many animals making it a top destination for wildlife viewing. This is a must-do and should appear on your safari destination list. Wildlife you should expect to see while on a safari to Ngorongoro crater include elephants, giraffes, zebras, black rhinos, lions, cheetahs, hyenas, wildebeests, hippos, buffalos, Hartlaub's francolin, Jackson's widowbird, African spoonbill, Kori bustard, red and yellow barbet, Schalow's wheatear, Namaqua dove, Hildebrandt's starling, and greater flamingo among others.
4. Mahale National Park
Located in a remote area around the Mahale Mountains, Mahale Mountains National Park is a small National Park that is best known for the large numbers of gorillas that can be trekked all year round. Just like gorillas, the best way to learn and understand more about chimpanzees is by trekking them in their natural habitat. A safari to Mahale National park can easily be combined with Gombe National Park due to its remoteness. They might be some of the hardest places to get to and the most expensive by air but they have a lot to offer to tourists in terms of undiluted wilderness and wildlife.
5. Tarangire National Park
Tarangire National park is the 6th largest national Park in Tanzania and has quite a large number of African elephants. Tarangire is divided into two parts that are the southern region which is made up of wetlands and swamps which usually dry up during the dry season and the Northern region where the Tarangire River is found and is the best place to watch the animals from. Tarangire has over 400 recorded bird species and you can enjoy a game drive around the National Park and animal species that you should look out for include elephants, Topi, hippos, zebras, antelopes, and lions among others.
One of the multi-day safari packages that include Tarangire National park includes our 5 Days Tanzania safari. The package includes, tarangire, Serengeti National park and famous Ngorongoro Crater.
6. Mountain Kilimanjaro
Kilimanjaro is the highest Mountain in Tanzania and Africa and is located in the northeastern part of Tanzania. it can easily be seen from Kenya and is one of the top tourist destinations in Tanzania for hikers. The Mountain is home to over 140 animal species and 179 recorded bird species that can be seen throughout the year. It is home to the local people known as the Chagga who have gained from the Mountain due to the fertile soils along the slopes of the Mountain that greatly support farming.
Mountain Kilimanjaro was recognized as a UNESCO Heritage site and receives about 50,000 visitors per year and those that have made it to the peak of the Mountain find a record book in a wooden box where they can write their thoughts about the hike. Main safari activities that are carried out around Kilimanjaro include hiking, cultural visits to the Chagga people, a walk through the caldera plateau, and the challa Lake which has either emerald or turquoise green water.
7. Zanzibar Island
An offshore adventure is one of the main reasons why you should visit Tanzania especially if you want to relax after game drives and other safari activities. Zanzibar also known as the spice island is the best place for visitors to experience the coastal life and visit the old towns that were constructed by early traders. The coastal town has seen many visitors from different parts of the world since time immemorial like Persians, Arabs, Persians, and Indians who came to the island to trade.
Activities that tourists can engage in while on a safari and Zanzibar beach package  include relaxing on the white pristine beaches where you can also engage in other water activities like scuba diving, sunbathing, and swimming, a visit to the Bwejuu fishing village where you learn about the different fishing methods, visit the house of wonders which is located in stone town (house of wonders is the best place for you to learn more about the Swahili culture), explore the spice gardens, visit the Jozani forest, the sultan's palace and the Old Fort which was constructed in the 17th century making it the oldest building in town. Although Zanzibar is known for its beaches, other popular Zanzibar safaris include prison Island, safari Blue and Zanzibar spice tour. Zanzibar is either a good start or end for your safari and you can easily join it with other safaris in Tanzania and all you need to do is talk to your safari company to make it happen.
You may check more options for Tanzania safari from Zanzibar.
8. Pemba Island
Pemba Island is part of Zanzibar and is about 180 Km north of Zanzibar. Famously known as the green island, Pemba is the most fertile Island among the archipelagos of Zanzibar and the main cash crop grown is cloves. Explore the Island and get to meet the locals, enjoy walks through the clove farms as you learn how the crop is grown, harvested, and marketed, and enjoy water activities like scuba diving and fishing.
9. Serengeti National Park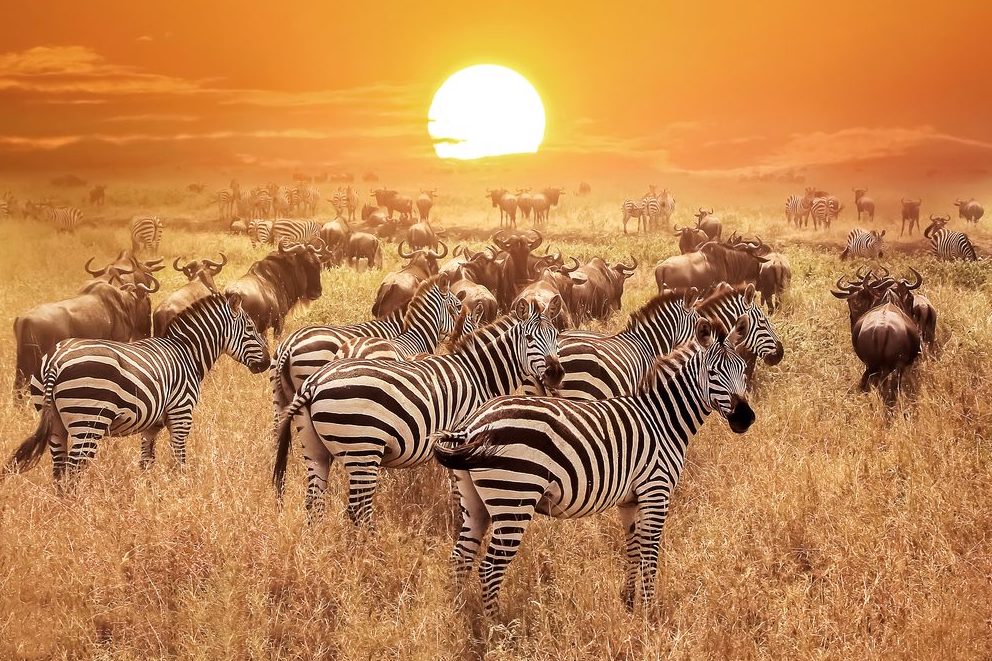 Serengeti National Park is a top safari destination in Tanzania located in the northern circuit. The National Park is a dream destination for many tourists because of the annual wildebeest migration that takes place between Serengeti and Masai Mara which sees millions of wildebeests, zebras, and antelopes crossing the Grumeti and Mara Rivers in search of better pasture. Serengeti National Park is home to over 3000 lions, wildebeest, hippos, antelopes like Topi, Impalas, elands, and Kongoni, buffaloes, elephants, leopards, Rhinos, giraffes, cheetahs and hyenas among others. Birds in Serengeti are estimated to be over 500 species some of which include Hildebrandt's starling, Ruppell's vulture, Black-headed gonolek, Schalow's Turaco, Red-capped robin chat, Grey-backed fiscal and Fischer's lovebird among others.
The hippo pool in Serengeti is one of the main attractions in Serengeti National Park. The hippo pool is located in central Serengeti with hippos submerged in the water for almost 16 hours making it the best place to see the hippos in the National Park. Activities that are carried out in Serengeti include game drives, bird watching, watching the wildebeest migration, and enjoying a hot air balloon ride.
10. The Ol Doinyo Lengai
Located about 70 miles away from Arusha, the Ol Doinyo Lengai also known as the Holy Mountain of God is an active volcano with its last volcanic activity happening in 2013. The Mountain's lava is rich in silicate minerals (the highest in the world) and many geologists consider it to be a wonder due to the high concentration of carbonatite. It is also considered to be holy by the local people who believe that God resides at the peak of the Mountain. A safari drive to the Ol Doinyo Lengai will also take you to the Olduvai Gorge site where the first fossils of man were discovered by archaeologists.
11. Lake Manyara National Park
The Tanzania northern circuit is the most visited part of the country and this is because of the many safari destinations that are found in the area and one of them is Lake Manyara National Park. Strategically located between the Great Rift Valley and Lake Manyara, the National Park is best known for the climbing lions that can be seen lying in the treetops and these can also be found in Queen Elizabeth National Park (Ishasha sector) in Uganda.
Lake Manyara National Park is a top destination because of the wildlife that is found here and this includes both bird and animal species that can easily be seen on a game drive. Wildlife that you should look out for include the cape buffalos, baboons, climbing lions, hippos, bush elephants, impalas, wildebeest, warthogs, leopards, waterbucks, giraffes, African wild cats, black-backed jackals, honey badger, bat-eared fox, and the African civet among others. It is also home to over 300 bird species some of which include the greater and lesser flamingo, Hamerkop, little stint, comb duck, African hawk eagle, African fish eagle, grey crowned crane, pied avocet, and sacred Ibis among others.
12. Nyerere National Park
Previously known as Selous Game Reserve, Nyerere National Park is one of the many reasons why you should visit Tanzania. The National park covers 480000 square kilometers in a secluded area giving it that feeling of undisturbed wilderness. The National Park is home to wildlife which includes elephants, giraffes, antelopes, crocodiles, zebras, hippos, and lions among others. Tourists can engage in activities like game drives and birding and it is one of the few places that allow hiking in Tanzania, so don't let this chance pass you by. Nyerere National park is best visited during the dry season-June to November although you can still check it out during the wet season, especially for bird watching safaris.
13. The food in Tanzania
Tanzania is a multi-cultural country which means that the cuisines prepared will be diverse including African Portuguese and Middle Eastern cuisines. The main food that is prepared in Tanzania is Ugali which is eaten with different dishes like fish, goat's meat, and greens among others. Zanzibar is best known for its different types of seafood, spicy food is also served here, including fresh fruits, herbs, cloves cinnamon, nutmeg, and cloves. But a typical Tanzanian dish is filled with carbs, fresh vegetables, and lots of meat that is mainly barbequed. And with the many coffee and tea plantations expect to get a lot of tea and coffee while on a safari to Tanzania. the beauty about a food safari in Tanzania is that most of the food items are fresh and a few rules that are followed by locals are: do not clear all the food on your plate, it's better if use your right hand and eat slowly to have the best taste of the food served.
14. Visit the Masai people
While on a Tanzania safari, you get to experience a lot of cultural shocks but the safari will be incomplete if you do not check out the local tribes that are found in the different parts of the country. Although Tanzania has many cultures that you can learn about, the best and oldest group of people is believed to have lived in the country for more than 200 years. Their unique culture makes sets them apart from the rest especially since they still follow their old traditions and rituals which include drinking a mixture of blood and milk from their animals, the jumping dance (with the highest jumping male considered to be the strongest), the brightly colored clothes they wrap themselves with (there was a belief that lions had a fear for the color red) and their mud wattled Manyattas that are in an enclosed setting to keep the wild animals away. The best way to learn about the Masai warriors is by visiting one of their villages where you will be welcomed with songs and dance.
15. Arusha National Park
Found at the foothill of Mountain Meru, Arusha National park is one of the smallest parks in Tanzania and a gem that every tourist should add to their safari destination list. It is one of the many reasons why you should visit Tanzania because of its rich flora and fauna. It offers opportunities for game drives, guided nature walks, bird watching, canoeing, and hiking up Mountain Meru. Wildlife within the National Park includes black and white colobus monkeys, giraffes, bushbucks, warthogs, buffaloes, blue monkeys, zebras, and antelopes among others.
other reasons why you should visit Tanzania include visiting the tea and coffee plantations, the famous Lake Natron, Ruaha National Park, the Usambara Mountain Reserve where you get to explore the Masumbae forest reserve, Lushoto waterfall, and Mambo cave and footprints, Isimila stone Age site, the snake park and Islands like Chloe Island, Kendwa Island, Mafia Island, Tumbatu Island and Chumbe Island coral Island among others.
After looking at the many reasons why you should visit Tanzania, let us know if the article was helpful and as you plan for your safari to the country, don't hesitate to contact us so that we help you plan a memorable safari.