Tanzania safari game viewing is planned with care for optimum chances of seeing the most animals in a single game drive. The best time for safari in Tanzania parks is therefore during the early mornings at day break, late afternoon for the sunset game drives, or even night game drives wherever it is allowed for a chance to spot the nocturnal species.
The questions that we get too often from individuals who would want to travel to Tanzania for safari is; what is a typical day like on safari while in Tanzania?  Others ask us how many game drives are included in this safari tour, or some simply asks as how long the game drives take. Our safari tours are private tours so it actually depends on your preference. It is after all a private tour in Tanzania so you got all the flexibility.
Tanzania Safari itinerary ideas
Below are a few of our Tanzania safari itineraries that are supposed to inspire you, because we can tailor-make safari tours to meet individual needs and ideas. We create private tailored tours or can customize any of our published safari tours in Tanzania to suit your pocket, needs and ideas.
Below is how a typical day on safari in Tanzania  unfolds.
Early morning safari
An early start means an equally early wake-up call. Most lodges and camps offer free wake up calls for anyone who would like to go out for an early morning game drive otherwise known as sunrise game drives that starts at 6.00 Am because that is the time that you are allowed to drive in the parks. Game drives are generally allowed between 6.00 Am and 6.00 Pm in the late afternoon as per the rules and regulations of the Tanzania national parks.
Tea or coffee and biscuits are served at around 06.00 hrs then you will head out of your lodge / camp for your sunset game drive. Generally this would be the best time to spot wildlife as they are still active due to cooler temperatures before the sun is too hot for them. It is also a good time to spot predators like the big cats which are returning from a night of hunting in the African Wilderness. In the Ngorongoro Crater in particular it is the best time to descend to the Crater floor if you wish to try your luck with spotting the Black Rhinos. They tend to be closer to the roads or by the roadside. Later on in the day when it is hotter the animals tend to graze in the thicker forests.
Late morning
After some hours doing your morning game drives you have the option to return back to your lodge/camp for breakfast then spend the rest of the midday hours for hot lunch or if you had gone out with packed breakfast, you can take your breakfast at a designated picnic site. Trust your guide with the safest place to take your meals. They are very concerned with your safety and none of them would want you to get hurt in anyway 🙂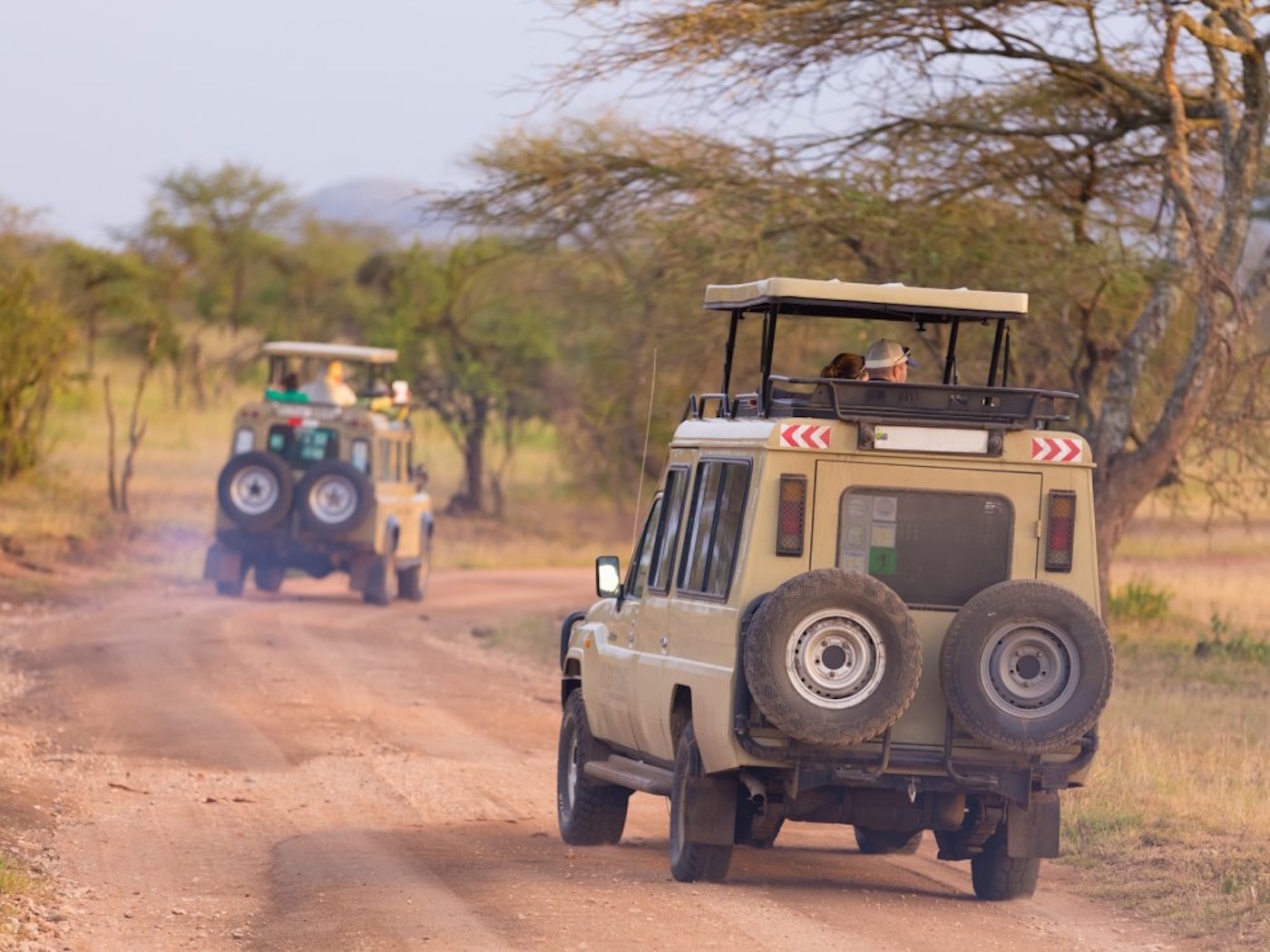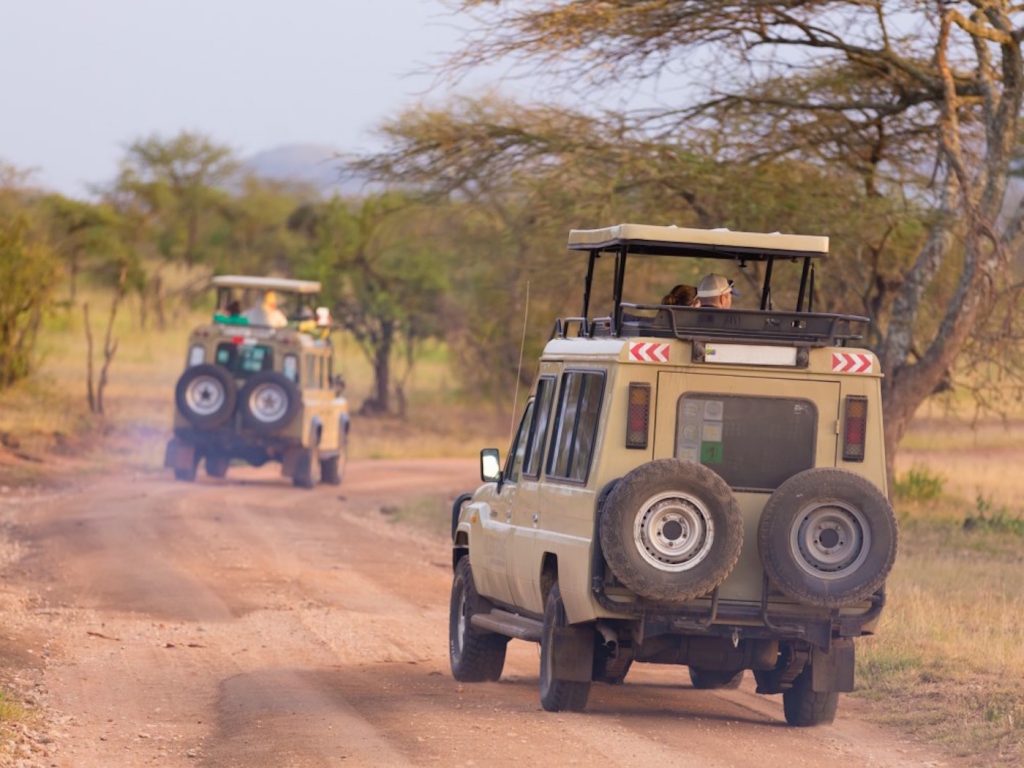 If you return back to your lodge for brunch, then the midday will be spent at the lodge having that brunch followed by lazy time at the lodge / camp where you can enjoy reading your book at your verandah or take a plunge in the swimming pool to cool off from the African sun. You can even take a nap if you wish or relax at the restaurant or bar as you sip to your favorite beer or taste the local Tanzanian brews like Serengeti Lager, Kilimanjaro Lager or Safari Lager. Local wines are also available.
At Around 3.00 PM you will leave for your afternoon game drives that will go on until later in the late afternoon when you will check in back at your lodge / camp for the evening.
For those who want to spend a full day game drive in the wilderness, you can only take breakfast at the lodge, then leave by 07.00 hrs or 08.00 hrs and spend the whole day with game drives, having a lunch break at a picnic site. This is common with game drives in the Ngorongoro Crater where you can descend with both packed breakfast and lunch.  If you are on transit from one park to another, this will also be your typical day. Leave out after breakfast with packed lunch to be taken at a picnic site.
Evening Game drives in Tanzania
Same as the early morning game drives, the afternoon / evening game drive is the best time to spot wildlife and birds. The predators especially the big cats start be active again at this time after an afternoon of slumber, but also their prey animals are now becoming more alert as the darkness falls and their vulnerability increases. Usually safari jeeps return at dusk when you will go for a quick shower to cool down, followed by pre-dinner drinks then the dinner itself. After dinner you will sit around the campfire in order to warm up your toes and have a little chit-chat with other safari lovers as you exchange your safari stories.
CAUTION – Safari days can be totally different, and what you saw in the day could be totally different from what others saw. The animals in the Tanzanian parks are wild animals and their location can be quite unpredictable.  Your guide will try all his best to show you as many animals as he can. The fact that you didn't see what others saw doesn't necessarily mean that your guide is inferior.
Night game drives
In parks where it is allowed, you may get the opportunity to do night game drives. In Tanzania this is allowed in the Lake Manyara National park and the Tarangire National Park. The safari jeep will be fitted with very bright spotlights that will light up the dark but you will also be accompanied by trained expert trackers with great spotting ability. They will definitely amaze you with their spotting ability as they are likely to spot any animal well before you have spotted it.
It is a good time to spot the hyenas and the elusive leopard that will most likely be spotted high up on a tree.
The night game drive is a unique experience because it gives insights on what happens at night in the African bush, totally different experience from the day safaris.
Game drives at night usually last for 2 to 4 hours only.
More Reading on